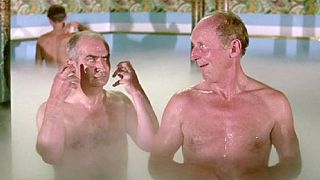 In cinema summer is often a season to revisit the classics and enjoy cherished old favourites that we know by heart.
And in that spirit a restored version of a monument of French cinema, 'La Grande Vadrouile', is returning to the screens of specialist theatres.
For decades it was a box-office record-breaker in French film, with 17 million viewings. It was eventually overtaken by 'Bienvenue chez les Ch'tis' and 'Intouchables'.
First released 50 years ago, there are few French families who don't have a copy on DVD or video. Made 20 years after the war it symbolised a resolutely carefree era that sought to look back nostalgically at France's recent past.
A half century on how do we treat a piece of film heritage? A retrospective critique is not so easy. The De Funes-Bourvil duo represent a somewhat classic formula and style. But with so many scenes that have achieved cult status it is impossible not enjoy the experience, and relive happy childhood memories.