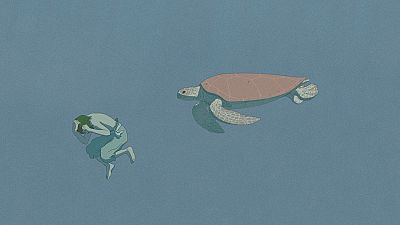 A survivor from a shipwreck is desperately trying to get away from an island which could have been a paradise. But he hasn't taken into account the determination of a red turtle who keeps destroying his bamboo raft.
The time for revenge will come when this same turtle arrives on the beach. This is when a strange mutation takes place and the castaway finds he is no longer alone.
'The Red Turtle' is a wonderful film by the Dutch film director, Michael Dudok De Wit. It took him ten years to complete his film.
It all started when the well-known Japanese studio, Ghibli, who came to fame with its short film "Father and Daughter " agreed to make a feature-length film with him. "Father and Daughter" received the Oscar for best animated film in 2001.
'The Red Turtle' is a first feature-length film. The music and the noises and sounds of nature make up for the absence of dialogue in this dreamlike, magical and aquatic film with its charcoal drawn scenery. It is a very moving film which captivated the jury in Cannes from the "un certain regard" selection. So hurry up and go and take a swim with this 'The Red Turtle'.
Hope you enjoy the movie and have a good week.
Tickets selling fast for #QFF screening of ghibli_intl</a>&#39;s The Red Turtle <a href="https://twitter.com/NewFarmCinemas">NewFarmCinemas. Have you booked yours? pic.twitter.com/JThnk8CfYq

— Queensland Film Fest (@QLDFF) 7 July 2016