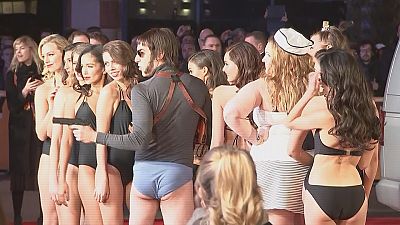 British provocateur Sacha Baron Cohen is back with his latest satire 'Grimsby'.
The film stars Baron Cohen as Nobby, an unemployed father of nine from the northern English town that gave the film its name, who is reunited with his long-lost brother Sebastian, a spy for the British secret services.
The British actor arrived at the film's London premiere in a minivan. Sporting the full Nobby look, he was accompanied by children eating fast food and models dressed in swimsuits.
"It's fantastic. I'm hoping actually to take some of the (red) carpet back home and put it in my house. You know, the only time people from Grimsby come down to London is really to get a heart transplant or to go to the Old Bailey (the Central Criminal Court of England and Wales)," he joked.
British actor Mark Strong plays Nobby's long-lost brother. Mostly known for his TV roles, Strong said he was keen to work with Cohen in a genre that he was not particularly familiar with: "It's really hard to keep a straight face but there would be a really serious vibe on set, so you'd get a certain amount of giggling time and then you had to get it together. So I remember struggling a lot with trying not to laugh."
The film pokes fun at stereotypes of working class people. But as one critic put it, the jokes are not at the expense of Baron Cohen's character but at the people who imagine such a character really exists. Baron Cohen's actress wife, Isla Fisher, who plays in the movie, doesn't believe people will be offended by the film.
"I think it's a little like 'Borat' with Kazakhstan. It was a fictitious version of Kazakhstan and it's the same with 'Grimsby'. It's a comedy film. I think they're going to love it," she said at the film's premiere.
Described as Sacha Baron Cohen's vital, venomous action movie by one critic, the film is not to everyone's taste and was branded lazy, teenage nonsense by another.
'Grimsby' is on global release from now.