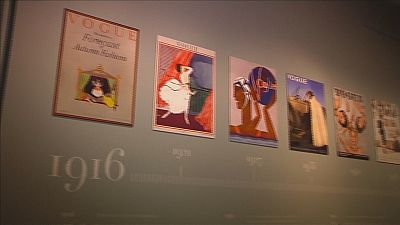 The National Portrait Gallery in London is celebrating the100th anniversary of the British version of iconic fashion magazine Vogue.
The show features more than 280 prints sourced from archives and international collections, brought together for the first time to tell the story of one of the most influential fashion magazines in the world.
Exhibition Curator, Robin Muir, says there is more to the show that what meets the eye: "I'm hoping that when the visitor comes to the show and sees the exhibition and then leaves, they'll think there's an awful lot more to Vogue than just fashion or clothes.
"I think Vogue's been a great cultural barometer to our times so there's an awful lot of fantastic portraits here as well as fashion pictures."
Founded in the US back in 1892 by Arthur Turnure, Vogue was launched overseas by Condé Montrose Nast in the 1910s.
In World War II, Vogue's official war correspondent Lee Miller and photographer Cecil Beaton captured numerous images traditionally not associated with fashion publications.
"During the Second World War, it was one of the few magazines allowed to continue production by the Ministry of Information because it was considered vital to the morale of the home front," Muir adds.
The exhibition includes the work of renowned photographers such as Cecil Beaton, Irving Penn and Peter Lindbergh, portraits of celebrities including Marlene Dietrich, Britain's Princess Diana and David Beckham along with shoots of famous models such as Kate Moss and Linda Evangelista.
"Vogue 100: A Century of Style" runs from February 11 to May 22 at London's National Portrait Gallery.