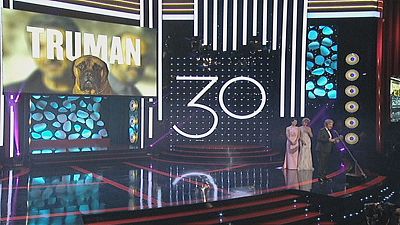 Spanish husband and wife duo Javier Bardem and Penelope Cruz joined other international stars in Madrid for the 30th Goya Awards, the annual Spanish Film Academy awards honouring the best of Spanish and Latin American film.
Truman was awarded five of its six nominated statuettes, including best film and director.
Directed by Cesc Gay, Truman is the story of two childhood friends reunited after years of separation.
Julian, Tomas and a faithful dog named Truman spend a few unforgettable days together; laughing, crying and reminiscing.
A humorous and honest portrait of courage, the film is an ode to friendship, life, love and acceptance.
Ricardo Darin won the Goya for Best Leading Actor in Truman: "Films and actors, we don't compete against each other, we are all together in this business. So I want to pay tribute to all the other nominees. And by the way, I also take this opportunity to send a message to the politicians: please do something for our culture."
Best European Film
The Goya for Best European Film went to Mustang by Turkish-French film director Deniz Gamze Ergüven.
It is a powerful story about the demonisation of young female sexuality in a remote Turkish village.
Set in northern Turkey, Mustang is the story of Lale and her four sisters whose innocent involvement with some local boys sets off a scandal that has unexpected consequences.
Mustang has also been nominated for an Oscar in the category of Best Foreign Film.