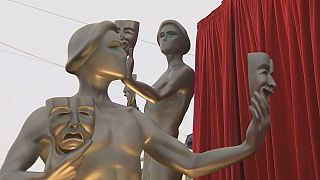 Streaming sites are celebrating success after the Screens Actors Guild Awards on Saturday.
We made a film about real people and real lives you know, and to be awarded for it it's very special because a lot of people were damaged through that.
The outcome of one of the biggest events of the year also provided a stark contrast to the Oscar nominations as the actors' union honoured four black actors in major roles.
The top award went to Spotlight for outstanding performance by a cast in a motion picture. The film tells the story of the Boston Globe's expose of a peadophile priest network within the Catholic Church.
Accepting award on behalf of the cast, actor Michael Keaton said: "This is for the powerless, this is for the powerful who took advantage of the powerless ..you can hang me for that I don't really care that's why I'm proud to be part of it."
Tom McCarthy's journalism drama had already topped this year's Critics' Choice Awards by winning Best Film and Best Ensemble and Best Original Screenplay. It has also received six Oscar nominations including for Best Picture.
The big individual winner of the night was British actor Idris Elba, who won two awards, the first time a single performer has won two awards for two different roles.
He won the Best Actor in a TV Movie or miniseries award for British cop drama Luther and walked off with the statue for outstanding performance in a supporting role for Beasts of No Nation.
"We made a film about real people and real lives you know, and to be awarded for it it's very special because a lot of people were damaged through that so thank you for giving this film some light and respect," said Elba on accepting The Actor statuette for the Cary Fukunaga directed film
Beasts of No Nation was considered by many critics as one of the best films of 2015, and yet it didn't receive a single Oscar nomination.
Leonardo DiCaprio won his first-ever Screen Actors Guild award for his role in The Revenant. Over the years he's had numerous nominations so winning he said was very special: "We all stand on the shoulders of giants, so I want thank all those actors from the past who have inspired me and all those actors who are in this room."
DiCaprio has already won a Golden Globe and a Critics Choice Award for his portrayal of an early 19th century frontiersman trying to survive against the odds after being left for dead in the wilderness by his traveling companions.
As expected , Brie Larson won the Sag award for her leading role in the film Room. The 26-year-old has already won the Golden Globe and the Critics' Choice awards for Best Actress in a Drama earlier this year, so things are looking pretty good for her in the Oscar race.
In Room, Larson plays a young mother who is forced to raise her son in a tiny room for years before they escape and then have to adapt to life in the outside world.
Orange is the New Black won big on the television side, with Uzo Aduba picking up the top honor for acting in comedy and the entire cast winning the award for best comedy ensemble.
And there was another British success as Downton Abbey beat out Game of Thrones, Homeland, House of Cards, and Mad Men to win Outstanding Performance by an Ensemble in a Drama Series.