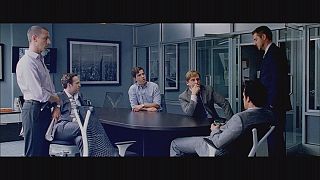 'The Big Short' a dramedy – comedy and drama – about America's recent financial crisis and was the surprise winner of the top gong – the outstanding theatrical motion picture – at the Producers Guild of America Awards.
It stars Christian Bale, Steve Carrell, Ryan Gosling and Brad Pitt.
Why is everyone talking about this Steve Guttenberg movie? #TheBigShortpic.twitter.com/YiHcZNt2G3

— The Pixel Factor (@ThePixelFactor) January 25, 2016
"I wanna give a shout-out to our partner Brad Pitt. We love you Brad, the curiosity, the desire for meaning, the desire for decency, the desire for fairness, the platform you have created," co-producer Jeremy Kleiner told the audience at the awards ceremony.
The film 'Amy' about the life of Amy Winehouse scooped the top prize for best documentary. The movie, which was snubbed by the late star's family has been nominated for an Oscar and is seen as a front-runner. It topped "The Hunting Ground," "The Look of Silence," "Meru," and "Something Better to Come."
The AmyWinehouse</a> film "Amy" won outstanding theatrical documentary at the PGA Awards <a href="https://t.co/PwbHR6GuEk">https://t.co/PwbHR6GuEk</a> <a href="https://t.co/FnKyxsG1c7">pic.twitter.com/FnKyxsG1c7</a></p>&mdash; billboard (billboard) January 24, 2016
Disney-Pixar's "Inside Out" won the award for top animated movie for producer Jonas Rivera. "Inside Out" which explored the mind of an 11-year-old girl and became a surprise hit is widely expected to win the Oscar in the animation category.
#InsideOut wins best animated feature at #PGAAwardshttps://t.co/jTFwY7c7oopic.twitter.com/IT4r9Mdo4W

— Variety (@Variety) January 24, 2016
"Game of Thrones", "Transparent" and "Fargo" took the top TV Awards.