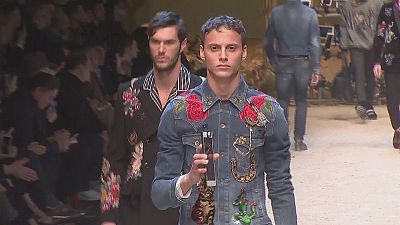 It was Sicily meets the Wild West at Dolce and Gabbana's autumn-winter show for Men's Fashion Week in Milan.
Inspired by Sergio Leone's popular Spaghetti Westerns, the collection featured a lot of lighthearted embroidery – all the rage this year in Milan – with motifs of cacti, crossed revolvers or a saloon dancer embroidered or printed on sweaters and shirts, as well as tailored jackets and suits. Bushy lambswool pants were worn with thermal tops or scoop-neck sweaters, and there was more needlework on denim jeans, shirts and jackets.
Models in silken pyjamas swarmed the runway for the finale. And in the age of social media, some models shot the runway and the front row using tablets – the films that were then streamed online.
In his first menswear collection for the brand, Norwegian-American designer Peter Dundas re-set the Roberto Cavalli clock back to the 1970's. He called it real opulence and with that amount of animal skins, rich velvet and ornate embroideries it certainly was. Read more at
Dundas' assignment at Cavalli, which he joined last year from Pucci, is to creatively evolve the fashion house through its planned global expansion, building on the brand's jean and glam-rock roots. Among the projects on the horizon, a men's frangrance will be coming out later in the year.
http://www.usnews.com/news/world/articles/2016-01-17/missoni-ferragamo-splash-color-during-milan-fashion-week
Angela Missoni trekked metaphorically into the Himalayas on her global search for menswear inspiration, returning with a backpack full of tassels and colors ranging from orangey sunset hues to deep sky blues. The pieces were layered with heavier sweaters, sweeping blanket coats or anoraks, and worn chiefly with cargo pants.
True to form, Missoni offered stripes that zigged and zagged, along with circular patterns on both tops and matching trousers. Backpacks were created for Missoni by Japanese luggage maker Porter.