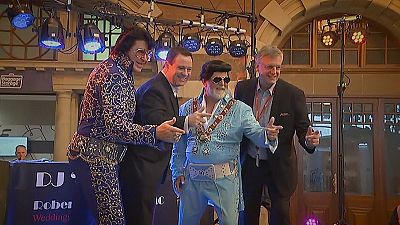 The King of Rock 'n' Roll is alive, well and in abundance in Australia.
Hundreds of lookalikes boarded the Elvis Express in Sydney heading for the small town of Parkes for the annual Elvis festival.
Coinciding with the King's birthday, the festival has grown into a considerably large event since it launched for just a few hundred fans back, in 1993. The number of visitors to this year's event are expected to double the town's population.
"We're expecting 20,000 people. It will generate nearly 10 million dollars worth of income for the region around Parkes so we're delighted," says Ken Keith, the mayor of Parkes.
The six-hour journey on the Elvis Express serves as a prelude to the festival. This year's theme is the Elvis Presley film classic, 'Fun in Acapulco'.
"You may say he died in 1977, but a lot of us don't believe he has died," said one fan onboard the Elvis Express.
The festival was started by a handful of passionate Elvis fans, including one man who changed his name to Elvis by deed poll and a couple who ran the Gracelands restaurant in Parkes for many years.
Some 150 events are scheduled over the five-day festival, which ends on Sunday, including concerts of course, but also an Elvis Gospel Service, parades, a Poets' Breakfast and much more.