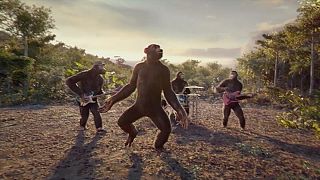 Coldplay have been in the jungle. The band has just released their seventh studio album "A Head Full of Dreams".
A video of the boys as animated chimps among the trees and undergrowth has been chosen as the first single from the album. The track is called "Adventure of a Lifetime".
It took six months to make and started with the boys performing in a full motion performance capture rig.
The new album which features guests Beyonce and Noel Gallagher among others won't be available to stream on Spotify for the moment. It's a decision that follows similar moves from Taylor Swift and more recently Adele.
"A Head Full of Dreams" is the follow up to their 2014 spiritually driven "Ghost Stories" which sold over 3.7 million copies that year.
The band, who chose not to tour "Ghost Stories" will be hitting the road again from March next year in support of their new album.
It's been announced too the boys will headline the prestigious Super Bowl 50 Half Time Show next February.