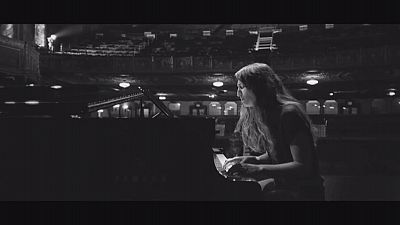 Sara Bareilles who shot to fame when she topped the charts with "Love Song" back in 2007 has a new album out – "What's Inside: Songs from Waitress".
The album is actually the soundtrack for the musical, "Waitress" which is set to open on Broadway next year. Bareilles wrote the music and decided to release the tracks ahead of the show's Broadway debut with herself on vocals.
But she explains what you hear on the new release may not necessarily end up in the show.
Sara Bareilles: "Since the record has been recorded there has been little lyric changes and song that are now question marks marks whether or not they actually serve the show in the best way so I think that wasn't something I intended, I thought this was going to be my version of the soundtrack of the of the show but there might be some bigger changes with in a way I think somewhat informs this project a little differently which is kind of exciting. It's just, you know, it's almost like getting a backstage pass into the process of what it was like to write this show."
"Waitress" is base on the 2007 film of the same name about a waitress and pie maker trapped in a small-town diner and a loveless marriage. The singer has also released a book , "Sounds Like Me: My LIfe (So Far) in Song" where she reveals some stories behind eight of her songs. Next up she says is a break.
Sara Bareilles: "The book, the musical and the album were all happening simultaneously. So it has been a very fertile time creatively and there are lots of moment I can think of where I felt like I was barely keeping may head above water so I know that I need to go to my cave for a little and just be in the world."
Her book incidentally is a New York Times best-seller. The Waitress opens in Broadway at the end of April.