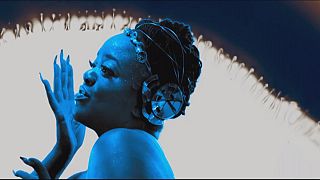 Described by critics as one of the UK's most promising voices, British singer-songwriter Eska has seen her self-titled debut album nominated for this year's Mercury Prize, the music equivalent to the Booker Prize for literature.
Known for collaborations with iconic artists like Grace Jones and Bobby McFerrin, the Zimbabwean-born London-raised artist says she's already looking forward to her next album: "Yeah, it's a big thing in the sense that now I'm looking forward to the next one already because once I got to the point where I kind of liberated myself to make that statement and put my name on it, you feel like doing it again and again and again. It's great, you know? It's a bit like learning to ride a bike – that's it, you don't want to get off."
Film directors Jordan Copeland and Yan Murawski tried to capture the textured richness of her record in the video of the single 'Shades of Blue', painting an ever-changing kaleidoscope of colours placated by Eska herself.
"I have to actually say the incredible artwork in the background, the artists who we collaborated with – forgive me, I forget his name, but I did put it in the credits – that for me was a golden goal to work with those wonderful visuals, that we got to kind of collide with me and my movements," explains Eska.
She is up against the likes of Jamie xx, Florence + The Machine and Aphex Twin for the Mercury Prize, which will be awarded on November 20.
Her self-titled debut album is out now and Eska is currently on tour with stops in Spain, the Netherlands and the UK.