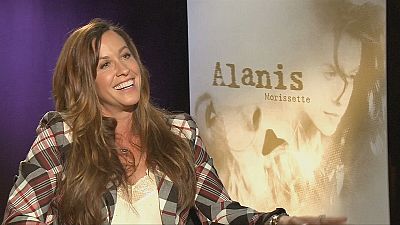 Celebrating twenty years since the release of 'Jagged Little Pill', Alanis Morissette is launching a special collector's edition of her multi-award winning debut album.
Released when she was just 20 years old, the album went on to sell more than 33 million copies and earned her four Grammy Awards.
"There's a value system and a fire that remains and I think (…) a lot of people were labeling it as angry, but really it was an explosion from having repressed for so long being the good girl, being the people-pleaser, and certainly that still remains somewhere within me, but I was basically trying to be the good girl for a long time and get my straight A's, and then after a while I just felt like this part of me that had been sublimated for so long just exploded while I wrote 'Jagged Little Pill'," she explains.
Morissette has been making records since the age of 11. Now 41, she talks about how it feels sharing her feelings with millions of fans around the world: "It's pretty vulnerable to know that that many people are listening in to my inner most unconscious thoughts and at the same time there was a sort of normalisation to it, almost like every record that I put out, every song and every single, I'd wake up at four in the morning the night before it was released and I'd be gripped with terror, and each time it would become less and less so and I just realised the more transparent I was the more empowered I felt."
Alanis Morissette has more than eight studio albums under her belt and has sold more than 60 million albums worldwide. Her new collector's edition includes 10 unreleased songs from the 'Jagged Little Pill' era. But she says she never stops writing: "I'm always writing songs so I have about 15 new songs and I had promised myself for a long time to finish this book that I'm writing, so it's holding the music hostage in the sweetest way, so I'll finish this book – I'm almost done – and then the second I'm done I'll give myself probably two days off and then I'll start writing again because I'm dying to write these new songs, flesh them out."
Featuring four discs, the collector's edition of Alanis Morissette's 'Jagged Little Pill' also includes a remastered version of the original album as well as a full live concert from the year of its release.