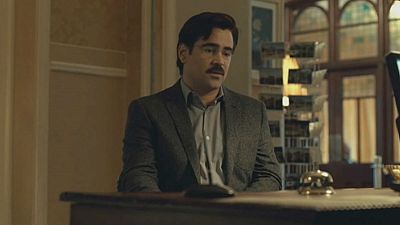 Colin Farrell and Rachel Weisz star in The Lobster, from Greek director Yorgos Lanthimos. It tells the story of a world where single people are given 45 days to find a mate and if they don't, they are turned into the animal of their choice.
At the movie's UK premiere at the London Film Festival, Farrell said that nowadays singles have an easier time than in the past.
"I know that some people insist, when they hear their friends are single, 'I know someone you have to meet,' and people don't like being single. I don't think there's the social stigma that there was ten or twenty or thirty years ago, for sure. (Back then) if you were single by the time you were 28, there was something really wrong with you, you were cast out – back then – now you're just looking after your career and you're making an individual choice to enjoy your life," explained Farrell.
The Lobster is director Yorgos Lanthimos' first English-language movie. It was co-written with long-time collaborator Efthymis Filippou.
Farrell plays the character of recently separated David, a part which required the Irishman to pile on several kilos.
"I'd never met Colin before and I met him with his increased weight size, so his jawline was slightly obscured under some sweet doughy flesh," said Weisz. "So, he'll always be David to me. I mean, he didn't get fat, by any means, he's just normal rather than a god," she added.
The Lobster brings together a top class international cast including Léa Seydoux who was choosen by Sam Mendes to be the new Bond girl, Ben Whishaw, known for playing the lead in "Perfume: The Story of a Murderer" and John C.Reilly whose career was launched by Brian De Palma. As director Lanthimos notes, the cast gelled very well together:
"I was surprised by that, mostly because there were so many and I didn't really know them before we worked together, so I didn't know what to expect, but it worked out great."
The Lobster premiered at the Cannes Film Festival earlier this year where it won the Jury Prize Since then it has been screened in the most important film festivals around the world. The macabre satire is now on worldwide release.