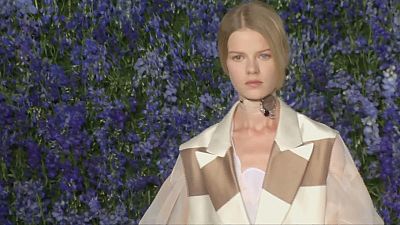 The face of Dior, pop singer Rihanna, appeared pretty in pink in a beautiful oversized coat-dress at the opening of the French fashion brand's 2016 spring-summer show in Paris.
The collection kicked off with a string of bared midriffs with shorts, pleated skirts and crop tops in thin white cotton. Stripes – horizontal and vertical – covered coats or sheer, floor-length dresses layered over tops with scalloped edging. Heels were chunky, whether high or low, with pointed toes and elegant ankle straps.
The elite Lycee Carnot hosted the spring-summer show by Alexander McQueen. Designer Sarah Burton's collection looked like it was straight out of a fairy tale. It was light, airy, and beautiful. Models took to the catwalk in platform shoes or sneakers with their hair in long, flowing waves.
In a pink-dominated palette, the collection included short and long silk gowns in blush-colored ruffles, a series of floral dresses with immaculate ruffled collars and a long gown ending in a burst of ostrich feathers.
US models Kendall Jenner and Gigi Hadid headlined Elie Saab's ready-to-wear spring-summer fashion show at the Tuileries Garden.
Featuring the label's trademark intricate lace, bright florals and floor-sweeping gowns, the collection was eclectic, with trousers, bomber jackets and shorts in materials as diverse as leather and silk crepe. Saab also introduced his key shoe for next season – a block heeled sandal that laces up the leg with gladiator-like lashings, as well as his new handbag line, "Le 31", in sharp square lines.
And Guillaume Henry's second collection for the house of Nina Ricci was held at the Grand Palais.
For the 2016 spring-summer season, the designer linked makeup and women's clothing by giving many of his fabrics a sheen effect. Monochromatic shades from bright red to bronze and olive reflected the various colours in a woman's makeup bag. Skirts were often combined with transparent tops and many of the short leather dresses were given an airy feel with the addition of feathers. Accessories included slim necklaces that added a subtle sparkle to dress collars and see-through tops.