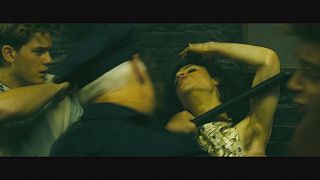 German director Roland Emmerich's latest offering, 'Stonewall', a drama about the birth of the gay rights movement, is courting controversy.
Named after the 1969 riots by members of the gay community against a police raid at a New York gay club, the film centers around a fictional, straight-acting, homeless kid.
Emmerich, who is openly gay and is best known for Hollywood blockbusters like 'Independence Day' and 'The Day After Tomorrow', marks his debut at the helm of an independent film.
It's also his first movie with a gay focus and has sparked a barrage of negative reviews. "Yeah. I don't know why that is," says Emmerich. "I think that if there was another name on this as a director, this would look different."
"It's a fictionalised story. It's not a documentary. It's a film that's long overdue, it's a motion picture. We are bringing awareness to homeless youth that are LGBTQ, and all homeless youth, of course, any person in a vulnerable position. I just feel like I really want people to get that. I don't want people to be blinded by other reviews out there or other things that are going on," says Joey King, who plays the main character's sister in the movie.
It premiered to positive acclaim at the Toronto International Film Festival. But festival audiences are often more forgiving than critics, some of whom accuse Emmerich of treating a seminal event in the gay pride movement as the mere backdrop to the otherwise vanilla story of a homeless (Indiana) teen looking for community in New York City.
Stonewall veteran Martin Boyce was consulted for historical accuracy in the movie: "Well, we've reached a point where everybody's a Stonewall veteran, and everybody wants to own it," he says. "I mean, I, as a person that was there and fighting there, found no problem with the film. I mean, I took it for granted this is a romantic action film. It's fantasy, in part. But he did bring these people to life. And I think people should be happy, or many gay people should be happy that these people are mentioned. They died unknown. They died poorly. They suffered, no one recognised them, no one helped them. And here they are in a film, immortalized."
Roland Emmerich's latest movie 'Stonewall' is out now in the United States.