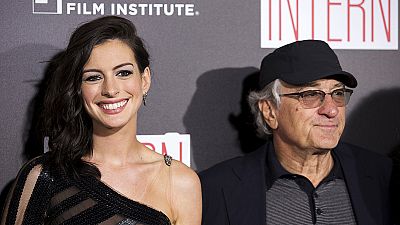 Robert De Niro and Anne Hathaway hit the red carpet in advance of The Intern, which premiered in New York on September 21.
...I love that Nancy wrote a female boss character who wasn't mean and cold.
De Niro plays 70-year-old widower Ben Whittaker, who has discovered that retirement isn't all it's cracked up to be. Seizing an opportunity to get back in the game, he becomes an intern at an online fashion site, founded by Jules Ostin (Hathaway).
The Intern
was initially set to feature Tina Fey and later Reese Witherspoon in the lead role but it was Anne Hathaway who got the job.
Said Hathaway about her character, "I gotta say I was initially drawn to her because I thought I've never seen a young, smart, female character like this, who's dealing with so much stress and I related to it. I assumed a lot of women would relate to it, maybe even men will relate to it too, so that was actually the first thing that drew me to her. But then the more I got to know her the more I loved her. I mean, she's just trying so hard to be a good person and do right by everyone and I love that Nancy (Meyers) wrote a female boss character who wasn't mean and cold."
Director, writer and co-producer, Nancy Meyers said she hoped the film would clear up some misconceptions about generation gaps in the workforce.
"We all dismiss each other a little too easily, you know? We kind of blow off the millennials, they blow off us, and here they really have a good experience with each other."
"The Intern":http://www.theinternmovie.com/
debuts in US theatres the end of September, and in the UK and France in early October.
Everyone loves #TheIntern! See what fans are saying. pic.twitter.com/o7z5Zouzt1

— The Intern (@TheInternMovie) 21 Septembre 2015