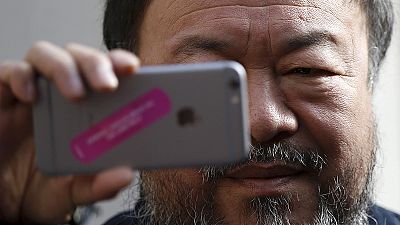 A new exhibition by Chinese dissident artist Ai Weiwei is opening at London's Royal Academy of Arts.
It is the UK's most extensive show of works by the artist, who is famous around the world for addressing human rights abuses, official corruption and the collision between Chinese culture and Western consumerism.
Among the works on display are a 2,000-year-old vase painted with the Coca-Cola logo, a surveillance camera and giant blades of grass carved out of marble.
"I don't want to make the simple connection with the fact that his father was a distinguished poet but there is something of the poet sensibility in Ai Weiwei, in the way that he works with material, there's a kind of poetic transformation of a lot of materials," says Tim Marlow,
Artistic Director of the Royal Academy of Arts and co-curator of the exhibition.
Ai, who has been incarcerated in China in the past and had his passport seized by Chinese authorities, was in London for the opening of the exhibition. He was initially denied his visa to enter the UK after immigration officials said he failed to declare a criminal conviction in his country.
"What makes the show even more poignant and powerful is the fact that he's able to travel to see it," says Tim Marlow. "This is the first show he's seen of nearly a hundred he's made in the last five years."
Coinciding with the launch of the exhibition, Ai Weiwei and British-Indian sculptor Anish Kapoor took part in a walk through London in a bid to highlight the plight of refugees and migrants around the world. The pair intend to repeat their walk together in a number of cities over the coming months.
"We want to bring up the consciousness of the people to become more creative, more positive about the situation and, of course, we always think artists are a part of it. You know, this kind of refugee or migration situation is from the beginning of our human history," Ai told journalists.
"One might say that in a way artists are refugees. We are always on the edge. We always sit with a mind to what is slightly outside, watching that, being active in it, being generous with it, opening our world to the less fortunate," said Kapoor.
The Ai Weiwei exhibition at the Royal Academy of Arts in London runs until mid-December.