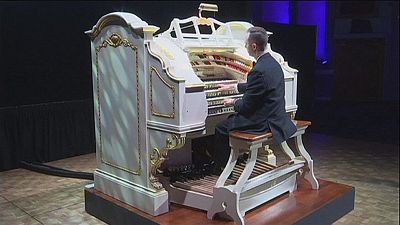 After six years of renovation Europe's largest theatre organ is again ready to make windows shake and blast audiences in London's east end, at the Troxy theatre.
The Wurlitzer made it to London from the United States in the 1930s and now shimmers in all its original glory. Far more sophisticated than their church forebears, cinema organs had to be a full orchestra for the early silent movies they were designed for.
"It was much more effective at filling a huge theatre than a piano or even a string quartet or something a lot more modest. But of course, it's important to remember the theatricality of the thing as well. Going to the cinema was such a thing of entertainment and so to see one of these instruments played live was as much a visual spectacle as it was a spectacle for the ears," says organist Richard Hills.
The organ had been long-earmaked as something special, having been bought by the Cinema Organ Society for preservation way back in 1960, when cinemas were ripping them out and selling them for scrap. Its survival is nothing short of miraculous.
"Well, it was stored in an underground car park so it was in reasonable condition. But it was an opportunity when we installed it here to replace all the leathers to make it really good, so it'll last for many years and also to get the best sound. So it hadn't been completely restored," says the Cinema Organ Society's Nigel Laflin.
Last weekend's "Night of a Thousand Pipes" was the first music played on this instrument in half a century. Now it is available for hire, and will be making star appearances at special screenings of movies at the Troxy cinema.