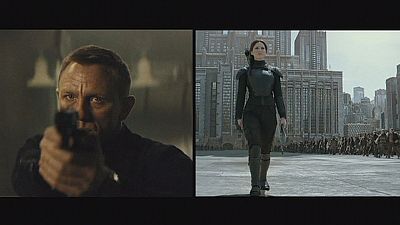 Just the first bars of the iconic theme tune is enough to get even the most jaded Bond fan excited about the latest release.
James Bond returns in Spectre and this week saw the release of the first full-length trailer before an autumn release.
Cue shots of exotic locations, beautiful women, fast cars and explosions.
It's the fourth outing for Daniel Craig as 007 and his co-stars include Christoph Waltz, Lea Seydoux, Monica Bellucci and Ralph Fiennes.
It marks the second time director Sam Mendes takes the helm after the success of Skyfall.
Spectre will have its world premiere in London on October 26.
With the release of the trailer, speculation is now building over who will sing the title track, which is often a path to Oscar and Grammy glory. Some pundits are touting Radiohead as the best bet.
Hunger Games:Mockingjay Part 2
Another lucrative movie franchise will see the release of its latest installment this Autumn.
The Hunger Games: Mockingjay Part 2 marks the final chapter in Katniss Everdene's fight for freedom and justice.
Jennifer Lawrence reprises her leading role taking her forces into an epic battle as she confronts President Snow played by Donald Sutherland.
The franchise has spun out the final book into a two-parter, with the action-heavy second installment hoping to win back those underwhelmed by Part 1.
Blink and you'll miss them but the trailer also includes some of the final frames shot by actor Phillip Seymour Hoffman before he died in February 2014.
Hunger Games:Mockingjay Part 2 is out November 19.