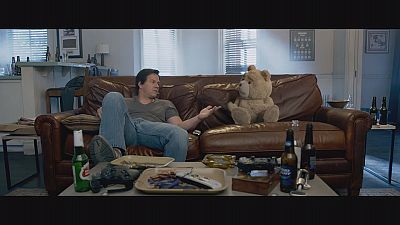 Ted the talking teddy bear is back on the big screen, but this time
along with the big laughs creator Seth McFarlane is adding a big message about equality.
Ted has moved on and is now to married to his girlfriend from the first movie, but they want a child and Ted has to go to court to fight to be recognised as human.
The stars of "Ted 2" hit the red carpet in New York on Wednesday
to celebrate the film's world premiere.
"There is no good way to pitch this movie. A guy with a talking teddy bear, his teddy bear comes to life. I didn't like the idea when I first
heard it. It wasn't until I reluctantly read the script, then met with Seth, and then saw the test with the bear that I knew it would be something special," says male lead Mark Wahlberg.
The original film came out in 2012 and was a smash hit, earning over half a billion euros worldwide.
Actress Jessica Barth plays Ted's love interest.
"I couldn't think of him as a bear because in my work I had to think of him as the love of my life. So, in my preparation I prepared the same as I would if he was a real actor in front of me," she says.
The film is packed with star turns from the likes of Liam Neeson,
Morgan Freeman or Tom Brady and is graced by the voice of
Patrick Stewart.
"Ted 2" is released in U.S. theaters this week, and rolls out worldwide this summer.