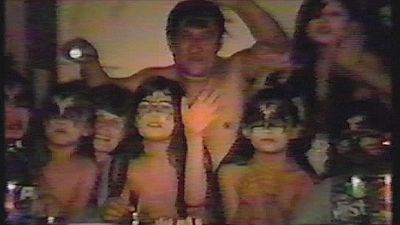 'The Wolfpack' follows the incredible story of seven children who lived for 14 years locked away by their father in a New York flat.
The film won the US Documentary Grand Jury Prize at this year's Sundance Film Festival.
Director Crystal Moselle explains how she came to meet the family: "I found these boys on the street. I was walking down First Avenue in New York City, and they ran past me. And they had this long black hair and these sunglasses, and I think they were wearing suits that day – I can't remember – but something about them just really intrigued me. And I ran after them. And we met up at a crosswalk and I asked them if they were all brothers. They said, 'Yes.' I asked them where they lived. They said, 'Delancey Street,' which was only a couple blocks down. I said like, 'What? I haven't seen you guys around here before.' And they then asked me, Govinda then asked me, he said, 'What is it that you do for a living?' I said, 'I'm a filmmaker.' And he said, 'We're interested in getting into the business of filmmaking.'"
The Angulo family's seven children – six brothers and one sister – were homeschooled by their mother who was also forbidden from leaving home by the father, a Hare Krishna devotee.
Their only connection with the outside world was through films, of which they had thousands, and which they recreated at home.
Everything changed when one of them decided to go for a walk in the neighborhood in January 2010, against their father's instructions.
'The Wolfpack', which has earned mostly positive reviews continues to tour the festival circuit.