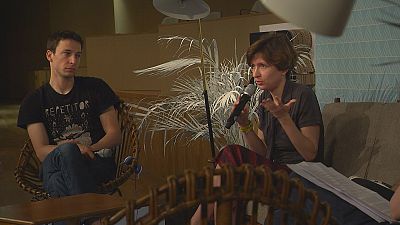 Electro and indie music festival "Les Nuits Sonores" in Lyon, France, has become a showcase for emerging music trends as well as being one of Europe's most fun gigs. A parallel event, The European Lab forum was also held from 12th to 15th May.
Questions that forum guests discussed included financing. In the context of budget cuts, how can we preserve artistic ambition? What will the arts sector look like in the future?
Polish journalist Agata Pyzik has a critical view of the current situation: "Today, problems include for instance issues of globalization and homogenization, commercialization and the new media channels which make publishing art more easy but simultaneously make artist's lives more difficult, with less money. The processes of culture are shifting towards the source of the money, resulting in lots of people not even contemplating a career in art."
Agata Pyzik works in London. In 2014 she published 'Poor But Sexy: Culture Clashes in Europe East and West' in which she analyses art in Eastern Europe. She thinks that there was more artistic diversity before 1989: "In the past, even if the east was following some cultural developments in the west, the east was coming up with their own solutions and aesthetics. Also, those aesthetics were due to wider notions of socialism and social democracy, which has now evaporated from the world. In terms of art and culture, that used to mean public funding and a certain independence. Art did not have to sell anything, it had just to be good."
Relja Bobic from Serbia knows a lot about the difficulties of arts funding. To set up a new arts incubator in Belgrade, he had to collaborate with 25 private companies: "It is very important to be connected to the local community, to serve your own artistic and creative community and work within it. I think this means the different actors have to be more open to collaboration between different sectors..
Catch up with all the European Lab debates by listening to the web radio podcasts of the event on europeanlab.com.