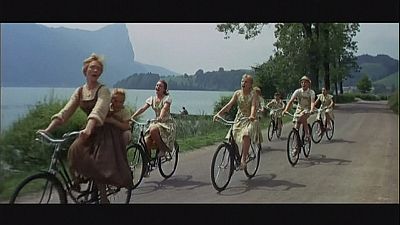 The 1965 Oscar-winning film adaptation of the Rodgers and Hammerstein musical The Sound of Music is celebrating its 50th birthday this year.
Set in the 1930's, the movie tells the tale of a woman who falls in love with a naval officer widower after leaving a convent to become governess to his children.
Its star Julie Andrews, 79, says she is amazed it is considered by some to be a classic: "If anybody had told me in the days that we were filming this movie that 50 years from then I would be doing this, I could never have imagined it. Never."
But not everyone involved in the film views it so fondly.
Andrews' 85-year-old co-star Christopher Plummer who played Captain von Trapp, has referred to the film as "The Sound of Mucus."
Other American movie musicals, like "Cabaret" and "West Side Story" may be revered but Andrews believes "The Sound of Music" occupies a special place in people's hearts.
"This one stuck because it was very well made with beautiful music and a lot of glorious assets like beautiful scenery and mountains and children and an adventure story and a love story and all of that," said Andrews. "I think musicals in general are quite special and there's an elevation that comes from having music with a story ."
Despite a series of stinking reviews on its release, the film won five Oscars.
It stands at No. 3 behind "Gone With the Wind" and "Star Wars" in the inflation adjusted chart of the most popular films of all time.
And to mark it's anniversary, 20th Century Fox is releasing a five-disc Blu-ray/DVD box set and of course the famous soundtrack is also being re-released.
The film will also be screened at the TCM Classic Film Festival in Hollywood later this month and over 500 movie theaters in April.
In the Austrian city of Salzburg, where the film was shot, a whole series of "events have been organised to commemorate" the 50th anniversary: http://www.salzburg.info/en/art_culture/sound_of_music/50_years_sound_of_music