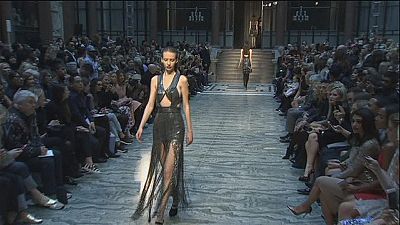 To a live performance by British singer Clare Maguire, Burberry designer Christopher Bailey sent his models down the runway at London Fashion Week dressed in patchwork floral dresses, fringed jackets and oversized ponchos.
Featuring rich shades of berry, ochre and chocolate, the bohemian collection was inspired by a mixture of folk craft using quilting and ornate embroidery on Burberry's signature trench coats, as well as lace and crochet across its delicate silk dresses.
One of the starriest shows on the calendar, it drew a number of big names in fashion, including Kate Moss and Naomi Campbell in the front row, as well as legendary fashion photographer Mario Testino.
Julien Macdonald's upcoming Autumn-Winter collection was inspired by the Tower of London at a Fashion Week event intent on banishing the winter blues from the catwalk.
Famous for his red carpet-friendly designs, Macdonald showed a slinky range of embellished dresses in black, metallic and bold hues.
Elegant layering, fringing and sexy cut out detailing added depth to the looks.
Vivienne Westwood's Red Label collection was modeled on her own "country girl who moved to the city" upbringing – bookish and cultural.
Shorts in different lengths, knee-length sport socks and ankle boots were weaved throughout the collection.
Romper suits were spotted, as were occasional 18th century corset dresses which were cut shorter into party dresses.
Models wore red face pain, jewelery in bone shapes and a mix of stripes, animal print and tartan plaid, characteristic of Westwood's famous punk aesthetic.
The catwalk for the House of Holland show was a proper "runway" or travelator with models whizzing past the front row dressed in a variety of stripy designs, from minidresses to fluffy coats.
Labelling his collection "trustafarian street urchins", Henry Holland's unique blend of ironic kitsch and party-inspired fun combined tartan, bold stripes in a super bright palette.
Ending the show, Holland performed his token jog around the travelator catwalk to the delight of the audience.