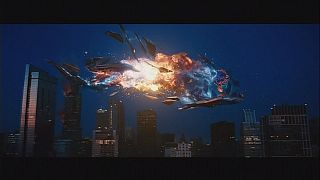 'Jupiter Ascending' is the new sci-fi extravaganza by the Wachowski siblings, who brought us the Matrix trilogy and more recently 'Cloud Atlas'.
Starring Eddie Redmayne, Channing Tatum and Mila Kunis, the film tells the story of a lowly Russian housekeeper – played by Kunis – who dreams of a greater life. Things look set to change when she finds out she is born with the same DNA as the most powerful woman in the universe.
The stars hit the black carpet in Los Angeles for the film's premiere.
"I was a bit worried because I don't have a particularly good imagination myself. I knew a lot of it would be on green screen and I was going, 'Will I find that sort of inhibiting?' And weirdly, I found that really sort of liberating," said Eddie Redmayne, who plays the villain.
"Channing and I wanted to do a film together and doing a sci-fi movie with the Wachowskis is something that I think everybody would love to do if they're a sci-fi nerd. So, for me, I just got to geek out every day," said Mila Kunis.
Director Lana Wachowski said the movie's particular universe was inspired by an inner search for identity.
"I was thinking about the nature of home. I had been on the road doing the trilogy for 10 years and I came home and it was Thanksgiving and I was weirdly reading "The Odyssey" and watching "The Wizard of Oz", and thinking how they were two stories that talked about home in relationship to identity and the way identity shifts and home remains this place where you return," she said.
Originally slated to open last summer, the Warner Brothers delayed the film's release by more than six months reportedly to finish its elaborate visual effects, which, one critic said, are among the most stunning ever witnessed in a genre known for mind-blowing imagery.
The film, however, has earned criticism for its nonlinear narrative that challenges the very limits of conventional storytelling, with one critic calling it confused and lifeless and another describing it as a beautiful muddle.
'Jupiter Ascending' opens in theatres this month.