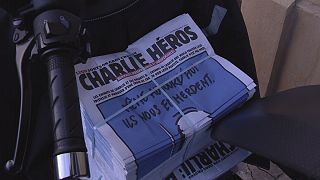 The reaction to the attacks against French satirical newspaper Charlie Hebdo have been many.
In the French city of Lyon, the tragedy sparked a unique initiative. Cartoonists, printers and artists joined forces to print a one-off edition of "Charlie Héros" in homage to the victims of the attack.
A first edition was put online, then printed and handed out ahead of Sunday's nationwide marches.
"We were shell-shocked," said Jean-Charles Lavégie, artistic director of "Charlie Héros".
"I just said 'We should do a pirate version of Charlie Hebdo', and my business partner, (cartoonist) Olivier d'Arfeuille, followed. So we sent emails to friends of ours who are cartoonists to see if they would be interested. We immediately received messages of support, we received drawings from people who wanted to publish a hard copy of the newspaper and wanted to be in it."
A second edition was printed with a new front page and handed out for free on Tuesday evening, the day before Charlie Hebdo hits the newsstands.
Dozens of people took part in the project, mostly cartoonists, as well as two printers who offered their services for free. The papers were then taken by scooter to their distribution point near the town hall on one of the city's main squares, Place des Terreaux.
"We launched the idea thinking 'We'll see'," said cartoonist Olivier d'Arfeuille. "We panicked a bit when we saw the response on social media, the drawings were coming in at such a rate, one after the other, so we worked all night, and they kept coming in, all night long, and even the next day, after we had sent the paper to print, people were still sending drawings, we received many drawings."
A crowd of keen readers gathered Place des Terreaux to lay their hands on a copy of this one-off edition.
"I have a lot of friends who couldn't come and pick up their own copy. Just like taking part in the marches, it was important for us. It's a symbol of a free press in a way, so we will continue to stand and read this kind of newspaper," said one reader.
"I had to wait an hour to get my copy but it was worth it, thank you "Charlie Héros"," said another.
While condemnation of the attacks on Charlie Hebdo is unanimous, some claim their right to not agree with its content.
""Charlie Héros" is Charlie Hebdo, really. I think the attack is unacceptable, everybody condemns it, Muslims condemn it. However, as far as the caricatures are concerned, that's just pure provocation," said a young girl.
3,000 copies of Charlie Heros were snapped up in just a few minutes on Place des Terreaux. In all, 14,000 copies have been published.
"It all went very well," says Jean-Charles Lavégie. "There were more people than I had anticipated, so it was a bit scary at one point, with everybody pushing to get their own copy. In the end, everyone got one and there are even some left."
The attacks drew an historic number of people to the streets of France and around the world on Sunday, with an estimated 300,000 people marching in Lyon alone.