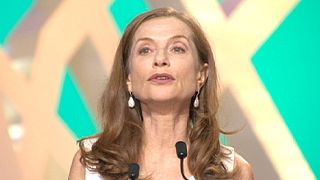 The 14th Marrakech Film Festival has come to a close, with a Golden Star for Ivan Tverdovsky's 'Corrections Class', a drama about a group of disabled teenagers in a Russian high school.
Director Ivan Tverdovsky couldn't be there to pick up the award but thanked the jury through a video message: "I am deeply sorry I could not be with you tonight because I am shooting my new film in Moscow, I am so sorry. I am deeply honored by the invitation and award."
'Chrieg' by Swiss director Simon Jaquemet picked up two awards, the Jury Prize and Best Actor for young Benjamin Lutzke.
It tells the story of a teenager who gets sent to an Alpine farmhouse in the middle of nowhere as a punishment for bad behaviour, and falls in with three teen outcasts, whose idea of a good night out involves stealing a car and setting light to a disco floor.
"I wanted to do something about teenage violence together with this image, this legend of this farm, it came together like this," said Simon Jaquemet. "I am normally a nice person, but during the shoot I became sometimes very nasty, also with my crew," he admitted.
"I still can't believe it so I am still shaking," Lutzke told euronews. "I have never won anything before, it is my first film. So I am so excited."
Best Director went to Aditya Vikram Sengupta for 'Labor of Love'. Set in Calcutta, the film portrays the lyrical unfolding of two lives trapped in a biting recession. Caught in a spiral of work and domestic routine, the couple share a dream that visits them, briefly, every morning.
Picking up the award for Best Director on behalf of his brother, Shetty Sengupta thanked the jury: "I am just so upset Aditya isn't here, but I am here, which is the next best thing, we were made of the same ingredients. And I really think it is a great time for Indian cinema and I am glad to be a contributor in some way," he said.
Best Actress went to France's Clotilde Hesme for her role in 'The Last Hammer Blow'. Alix Delaporte's second feature film, it observes a trailer-park teen as he faces his mother's declining state of health, and discovers his estranged father.
"Before Alix Delaporte, no director has ever expressed such trust in me and generosity towards me. She really had absolute trust in me and I felt we were making a great film," said Clotilde Hesme.
A 14th edition whose line-up shows that the Marrakech International Film Festival has matured into a full-fledged festival showcasing world-class cinema.