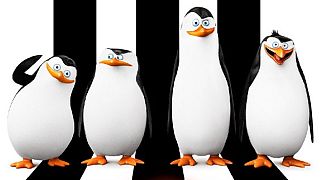 You may recall they stole a few scenes in three "Madagascar" now they're back stars in their own right in "Penguins of Madagascar". Actor Tom McGrath leads the elite team as the voice of skipper.
"Over the course of the three 'Madagascar movies, they became much more defined as different personalities in this well-oiled machine. Kowalski's the brain, Skipper's the gut, Private's the heart and Rico's the spastic muscle. Over the course of just playing these characters over and over, it's like, why can't they have their own movie? They could support their movie and be their won comic relief as well," he said.
For actor Benedict Cumberbatch playing the mysterious secret agent named Wolf was a departure from his repertoire of more serious roles.
"You go into the studio and lay in a track, then you see what the other guys have done, then you come back, work on it a bit more. You're also sometimes not even working to a picture, the director sometimes has to explain where you're at in the story, where the geography is, what the action of the scene is going to be, which is, you know, it's both freeing and constraining – but in a good way – in a very different way to anything else I've ever done, really," explained the actor.
For actor John Malkovich his role as a purple octopus with big teeth and large eyeballs close together actually reminded him of someone.
"My character, for some bizarre reason, I have no reason why, really looks like my younger sister! I mean, very strange. We look nothing alike, but there you go," he said with a smile.
"Penguins of Madagascar" opens in the UK on December 5.