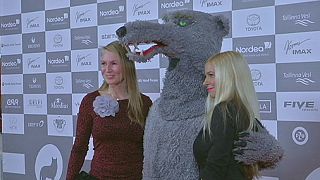 As the days grow shorter, what better way to spend them than in a darkened cinema theatre?
Welcome to the Black Nights Film Festival in the Estonian capital Tallinn. Now in its 18th year, the event takes pride in the fact that it has finally been granted accreditation as a non-specialized competitive festival, landing it in the A-list of film fests along with Cannes, Berlin, Venice, or San Sebastian.
A relief for its director, Tiinaa Lokk: "To be very honest, until the last moment, I didn't believe we were getting this. Just to be inside of this circle was something that was very unrealistic for me, but in the end of August, we got the 'Yes'!"
The festival is a two-week long event, featuring a diverse programme, including three sub-competitions, as well as international and European film premieres.
Some 260 full length feature films and documentaries are being screened this year, along with the same number of shorts and animations, with a special focus on Poland.
Opening the festival was award-winning Polish director Jan Komasa's blockbuster 'Warsaw 44'. A love story set during the uprising in Nazi-occupied Warsaw towards the end of World War II, the movie is a box-office hit in Poland, where it sold more than one million tickets in its first two weeks.
Subsidised by the Polish Film Institute, it is a major movie production by Polish standards with its multimillion euro budget, state-of-the-art special effects, elaborate set design and costumes.
It took the young film maker eight years to finalise it, while also working on his first full length feature 'The Suicide Room' as well as a documentary on the Warsaw Uprising, and it is one of the most eagerly awaited Polish films in recent years.
"Everybody in Poland was waiting for the movie finally to be made, especially a movie about the Warsaw Uprising," Jan Komasa told euronews. "It is still a controversial theme. The story about the Warsaw Uprising was from the beginning a story about the fight for freedom and dignity. And if you look, historically, at themes which are being depicted in movies, you have a lot of that type of themes – like fighting for freedom – you have it in the Bible, you have it in 'Star Wars', you have it in 'Avatar', in 'Pocahontas'. There are rebellion forces and there is something you have to fight against," he said.
Alongside the 18 movies vying for the festival's Grand Prix, programmers have gathered more than a dozen Oscar contenders for Best Foreign-language film including Xavier Dolan's 'Mommy', Palme d'Or laureate 'Winter Sleep', and Afghanistan's 'A Few Cubic Metres of Love'.
The Black Nights Film Festival wraps up on November 30th.
http://culture.pl/en/work/warsaw-44-jan-komasa
http://en.wikipedia.org/wiki/FIAPF