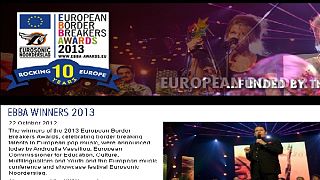 Today, Wednesday 9 january, from 18:00 until 19:30 the anniversary EBBA show will be broadcast live on YouTube.
You can find the show at the EBBA website. Or here below.
There will be performances by EBBA winners Amor Electro, C2C, Dope D.O.D., Ewert and The Two Dragons, French Films, Nabiha and Juan Zelada. Former winners Alphabeat, Katie Melua and SAYBIA will also perform. During the awards show the winner of the Public Choice Award will be announced.
This year's winners are:
Nabiha (Denmark), Ewert and The Two Dragons (Estonia), French Films (Finland), C2C (France), Emeli Sandé (Great Britain), Of Monsters and Men (Iceland), Dope D.O.D. (Netherlands), Amor Electro (Portugal), Juan Zelada (Spain) and Niki and the Dove (Sweden).