Krump started as an edgy, urban dance craze in Belgium. Under the guidance of European choreographers it is gaining in popularity and credibility as a dance form.
Since we've started to do the shows, with a whole story, with a beginning and an end, there are people who are starting to see Krump as a dance
"In the beginning, I started dancing all by myself. I've learned alone in my room, without knowing the basis of hip hop or Krump. Whether I'm happy or sad, I know I can dance," said Alexandre, who is typical of Krump devotees. He says it helps him express himself: "I'm very quiet, I don't talk often… but when I'm dancing, I improvise, everything that comes out is true, it's the real me."
Gen Y first met Alexandre and other members of his Krump group BBF a year ago. Then they were just taking the first steps on a very special journey. When we discovered BBF they were improvising some moves at the Gare de Palais, a railway station in Liège, in Belgium.
The buzz they created among commuters helped spread the word about Krump, the urban dance the group specialises in. Soon they got into a project called 7STEPS, working with French choreographer Grichka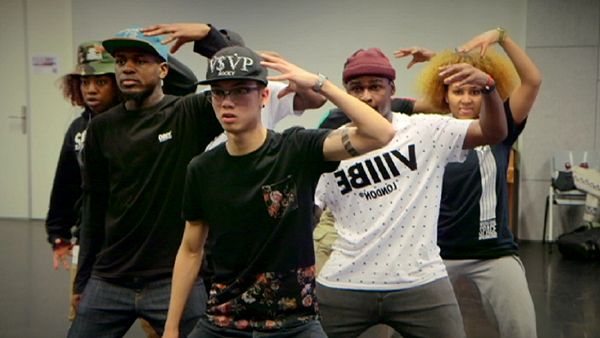 Five other groups of young dancers also took part in 7STEPS, which offers professional guidance and performance opportunities through a European network. A year on, BBF travelled to Amsterdam to perform in the city.
Group member Hendrick Ntela wants the audience to see Krump for what it is: "We have to communicate a message to the audience, to those who think Krump is aggressive or just freestyle. Maybe we'll find people here who'd like us to perform in other places. Honestly, that'd be really cool."
Her thoughts are echoed by Glody Gatshvo Emba: "There wasn't really choreography before, it's was mainly freestyle. But since we've started to do the shows, with a whole story, with a beginning and an end, there are people who are starting to see Krump as a dance."
Marion Motin is among the professional choreographers working with the youngsters: "These projects allow young people to be in direct contact with a choreographer. It's an exchange in terms of background, of dance culture, of creating a performance with someone you don't really know. It gives them a first professional approach."
The urban dance project is supported by the European Commission's Creative Europe
programme. Julie Daliers, coordinator of the 7STEPS project, explains its aims: "At the same time, we're training the dancers and we're allowing them to move between different countries. They have to fit into a professional context, they have to pay attention to the lights, for example, to prepare the rehearsals, to be ready to perform."
The Generation Y stories continue on our social media pages
You might also like