Google being sued in US over allegations of monopolising online advertising
Comments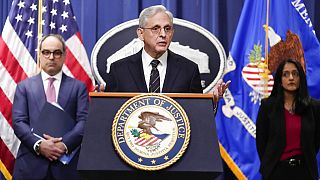 -
Copyright

Carolyn Kaster/Copyright 2023 The AP. All rights reserved
The US Justice Department and eight states are suing Google alleging that the tech giant is harming competition by monopolising online advertising.
The department's suit accuses Google of unlawfully controlling the way ads are served online by excluding competitors.
This includes its 2008 acquisition of DoubleClick, a dominant ad server, and subsequent rollout of technology that locks in the split-second bidding process for ads that get served on web pages.
The government also says Google's plan to assert dominance has been to "neutralise or eliminate" rivals through acquisitions and to force advertisers to use its products by making it difficult to use competitors' products.
As a minimum, the lawsuit is aimed at making Google split off its advertising business - its ad manager suite and ad exchange - as well as "any additional structural relief as needed to cure any anticompetitive harm."
Representatives for Alphabet Inc., Google's parent company, said the suit "doubles down on a flawed argument that would slow innovation, raise advertising fees, and make it harder for thousands of small businesses and publishers to grow."
This is the latest legal action taken against Google by either the US Justice Department or local state governments. 
In October 2020, the Trump administration and eleven state attorney generals sued Google for violating antitrust laws, alleging anticompetitive practices in the search and search advertising markets.
The states taking part in this latest suit include California, Virginia, Connecticut, Colorado, New Jersey, New York, Rhode Island and Tennessee.
Watch video in player above.