Ukraine war: Mourning in Dnipro, British tanks 'will burn', Kyiv infrastructure could 'collapse'
Comments
By Euronews with AP, Reuters, AFP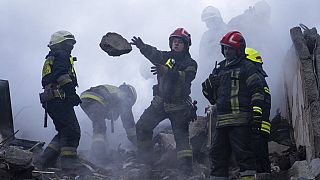 -
Copyright

Evgeniy Maloletka/Copyright 2020 The AP. All rights reserved
1.  Kyiv's infrastructure could collapse, says mayor
Russian bombing is putting the Ukrainian capital's utilities under critical strain, said Kyiv Mayor Vitali Klitschko on Monday. 
Speaking at the World Economic Forum in Davos, he said Russia's sporadic missile attacks along with freezing winter temperatures put local authorities under increasing strain.
Klitschko and his brother Wladimir told reporters that Ukraine's Western allies had to speed up deliveries of air defence systems capable of downing Russian missiles.
Kyiv has accused Moscow of indiscriminately targeting civilians as well as key infrastructure, threatening the winter supply of electricity, running water and central heating.
"We don't talk about the collapse, but it can happen... at any second (since) Russian rockets can destroy our critical infrastructure in Kyiv," Vitali said, adding that there was currently a 30% deficit in energy in the capital.
"It's pretty cold in Ukraine right now so living without electricity and heating is almost impossible. The situation is critical. We are fighting to survive," he added. 
2. Berlin supports special 'war crimes' tribunal for Russian leaders
Germany's foreign minister on Monday backed the creation of a special tribunal to prosecute Russian leaders over the invasion of Ukraine. 
During a speech at The Hague in the Netherlands, Annalena Baerbock called for a new type of court to "bring Russian leaders to justice". 
She suggested using Ukrainian law to try senior members of the Russian government, but at a court based outside Ukraine with international judges.
The International Criminal Court (ICC) is currently investigating alleged war crimes and crimes against humanity committed in Ukraine, which its prosecutor described as a "crime scene". 
However, the ICC does not have jurisdiction over Russia's "crimes of aggression" because Moscow is not a signatory to the Court's founding Treaty of Rome.
Calls have grown since the start of the war for the creation of a tribunal that can prosecute Russia for its alleged war crimes in Ukraine. 
Russia was accused of committing war crimes in Ukraine by several western nations and international organisations, following the discovery of mass civilian graves on the outskirts of Kyiv in Spring. Many bodies showed signs of execution and torture. 
Moscow denies its troops intensionally targeted civilians or committed atrocities in areas it occupied. 
3. Dnipro death toll continues to climb amid mourning
The death toll from a Russian missile strike on an apartment building in the southeastern Ukrainian city of Dnipro over the weekend has risen to 40, authorities said Monday.
About 1,700 people lived in the multi-storey, residential building, which was hit on Saturday. 
Tearful neighbours and local residents left flowers and cuddly toys on Monday at a makeshift memorial near an apartment block
Search and rescue crews worked non-stop to locate survivors and pull bodies from the wreckage. 
Some 39 people have been rescued so far and 30 more remained missing, according to the regional administration. At least 75 people were wounded, authorities added. 
The number of dead makes the strike the deadliest single attack on Ukrainian civilians since before the summer.
Residents say the apartment tower did not house any military facilities. One of those is Oleksander Anyskevych, who was in his house when the missile struck.
"Boom -- and that's it. We saw that we were alive and that's all," he said on Monday, while combing through the wreckage of his apartment. 
He told reporters he knew some of the people who died under the rubble. One of his son's classmates lost her parents.
Dnipro residents took flowers, candles and toys to the ruins.
"All of us could be in that place," local resident Iryna Skrypnyk said.
The European Union's foreign policy chief, Josep Borrell, labelled the strike as "inhumane aggression", since it directly targeted civilians. "There will be no impunity for these crimes," he said in a tweet Sunday.
Asked about the strike Monday, Kremlin spokesman Dmitry Peskov said the Russian military doesn't target residential buildings and suggested the Dnipro building was hit as a result of Ukrainian air defense actions.
Speaking at a joint press conference in Stockholm with European Council President Charles Michel, Swedish Prime Minister and EU rotating presidency holder, Ulf Kristersson, said the attack was a "war crime" and that those responsible will be "held to account". 
4. High-ranking Wagner Group member seeks asylum in Norway
A Russian man who reportedly is a former high-ranking member of the Russian private military contractor Wagner Group, has sought asylum in Norway, authorities said Monday.
The Norwegian Directorate of Immigration, also known as the UDI, confirmed to reporters that Andrey Medvedev has sought shelter in Norway.
"For reasons of security and privacy, the UDI cannot comment further on this matter," UDI said in an email.
His Norwegian lawyer, Brynjulf Risnes, confirmed that Medvedev was in Norway and had sought asylum.
The case was handed to the Norwegian immigration police and the man was transferred to Oslo, where he was placed in a centre for violators of migration laws. Police in Norway declined to comment on the case.
Last week, police in Arctic Norway said a person had illegally entered from Russia by crossing the two countries' border, which is 198 kilometres long.
The man, who was only identified by authorities as a foreigner, was detained by border guards and the arrest was undramatic, police said. He is said to have visited a private house in the border area and asked for help. 
Police said that they had been notified late last week by Russian border guards who discovered traces in the snow that could indicate that someone had crossed the border illegally.
It is believed that person was Medvedev, who according to the Norwegian news agency NTB on Monday has been on the run since he defected from the Wagner Group on 6 July. 
He reportedly has told a Russian human rights group that he is ready to tell everything he knows about the Wagner Group, its activities and its owner Yevgeny Prigozhin, a millionaire with ties to Russian President Vladimir Putin.
The Wagner Group includes a large number of convicts recruited in Russian prisons who have spearheaded attacks in Ukraine. The group has become increasingly influential in Africa, where it has been pushing Russian disinformation, building alliances with regimes and gaining access to oil, gas, gold, diamonds and valuable minerals.
5. Russia says British tanks will burn
Russia said on Monday that tanks Britain plans to send to Ukraine "will burn". 
The Kremlin warned the West that supplying a new round of more advanced weapons to Ukraine would not change the outcome of the war, amid calls for more European countries to donate tanks to Kyiv.  
Britain said on Saturday it would send 14 of its Challenger 2 main battle tanks as well as other advanced artillery support in the coming weeks.
"They are using this country [Ukraine] as a tool to achieve their anti-Russian goals," Kremlin spokesman Dmitry Peskov said in response to a reporter when asked about the British tanks.
"These tanks are burning and will burn just like the rest," Peskov said.
Peskov said the new supplies from countries like Britain and Poland would not change the situation on the ground, but were an attempt to draw out the conflict which he said would ultimately bring "more troubles" on Ukraine.
The Kremlin chief now casts the war in Ukraine as an existential battle with an aggressive and arrogant West, and has said that Russia will use all available means to protect itself and its people against any enemy.
Since Putin ordered his troops into Ukraine in February, the United States and its allies have given tens of billions of euros' worth of weaponry including rocket systems, drones, armoured vehicles and communications systems.
6. Putin and Erdogan discuss Ukraine prisoners, gas and grain
Putin and his Turkish counterpart Recep Tayyip Erdogan have discussed exchanging men wounded in Ukraine, a new gas hub in Turkey and the export of grain over the Black Sea, the Kremlin said on Monday.
"The exchange of views on the situation around Ukraine continued," the Kremlin said. 
It added that possible prisoner exchanges between Russia and Ukraine were discussed, following talks between human rights commissioners from both countries in Turkey last week.
"Vladimir Putin drew attention to the destructive line of the Kyiv regime, which relies on the intensification of hostilities with the support of Western sponsors, increasing the volume of transferred weapons and military equipment," said the Kremlin. 
The export of Ukrainian grain from Black Sea ports was also discussed, alongside ays to unblock fertiliser and food exports from Russia. 
Erdogan and Putin also talked about energy, the Kremlin said.
"Among the priorities is cooperation in the energy sector, including the supply of Russian natural gas and the creation of a regional gas hub in Turkey," the Kremlin said.
They also discussed the normalisation of Turkish-Syrian relations, it said.