UK to supply 'Challenger 2' tanks to Ukraine
Comments
By Euronews with AP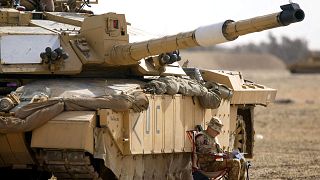 British Prime Minister Rishi Sunak has promised to provide tanks and artillery systems to Ukraine, amid renewed missile attacks by Moscow targeting the Ukrainian capital and other cities.
Sunak's Downing Street office said in a statement that he made the pledge to provide Challenger 2 tanks after speaking to Ukrainian President Volodymyr Zelenskyy on Saturday.
It did not say when the tanks were to be delivered or how many. British media has reported that four British Army Challenger 2 main battle tanks will be sent to eastern Europe immediately, with eight more to follow shortly after, without citing sources.
In a tweet on Saturday, Zelenskyy thanked Sunak "for the decisions that will not only strengthen us on the battlefield, but also send the right signal to other partners."
For months, Ukraine has sought to be supplied with heavier tanks, including the U.S. Abrams and the German Leopard 2 tanks, but Western leaders have been treading carefully.
Click on the video above to see more.