Footballer Benjamin Mendy found not guilty of rape charges
Comments
By Euronews with AP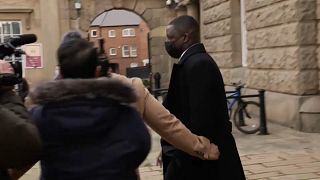 Premier League footballer Benjamin Mendy was found not guilty of raping four women following a six-month trial, but prosecutors have sought a retrial over two other allegations.
The Manchester City star, sitting in the dock at Chester Crown Court, covered his face with both hands, gently rocking back and forth, as the jury foreman, delivering the verdicts in a hushed courtroom and repeated "not guilty" to six counts of rape and one count of sexual assault, relating to four young women.
The unanimous verdicts were delivered on Wednesday by the seven men and four women on the jury, one juror having been discharged earlier for medical reasons.
But after 14 days of deliberations, jurors could not reach verdicts on the French man's alleged attempted rape of a woman in 2018 and the rape of another woman in October 2020.
Judge Everett discharged the jury on Friday, ending the trial.
Louis Saha Matturie, his co-accused and alleged "fixer" was found not guilty by the jury of three counts of rape relating to two teenagers.
The jurors also failed to reach verdicts on three counts of rape and three counts of sexual assault against him by five other women.
Both had been on trial since August 10, accused of multiple sexual offences by 13 women.
Prosecutor Matthew Conway said the prosecution will seek a retrial on the counts the jury could not reach verdicts on.
He said, "the prosecution has made a decision. We have made a decision today, which is to proceed on these counts in two separate trials and we seek today provisional case management."
The allegations and trial had been "absolute hell" for Mendy, the court heard, and his life in football "is over" as he would "never escape" the accusations.
Mendy had been accused of being a "predator" who turned the pursuit of women for sex into a game, his trial heard, drinking champagne in VIP areas of Manchester nightclubs before inviting young women into "toxic and dangerous" situations at "after-parties" at his Cheshire mansion in northwest England.
But jurors were also told by defence lawyers that while the trial, involving money, sex and celebrity, had "all the makings of a good drama", it came with a significant "plot twist" - the accused were innocent.
Lockdown-busting parties were held both at Mendy's home and an apartment he rented on Chapel Street near Manchester city centre, the court heard.
He was first arrested in November 2020 after the alleged triple rape of a 24-year-old woman at his home the previous month.
Mendy previously pleaded not guilty to all charges.