Year in Review: How Europe's far right garnered support in 2022
Comments
By Euronews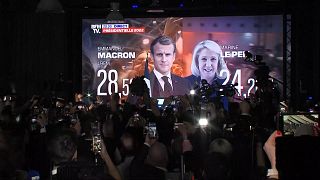 Historically, wars and crises, both social and economic have fostered the growth of extremes at the political level. And in 2022 this phenomenon continued.
This year's political campaigns and victory speeches were marked by Russia's full-scale invasion of Ukraine.
In Hungary, Prime Minister Viktor Orbán, who is widely viewed as the most pro-Kremlin leader within the European Union, won a fourth successive term as the country's prime minister.
In his victory speech, Orban said Christian, conservative, and 'patriotic' politics 'are not the past but the future'.
In France, Emmanuel Macron managed to secure a victory in the presidential elections against his rival Marine Le Pen.
However, the anti-immigration candidate secured more than 12 million votes, the largest share any far-right candidate has received in the history of the state.
As head of the National Rally, Le Pen has faced criticism for accepting party loans from a Russian bank close to the Kremlin.
In Scandinavia, three centre-right parties in Sweden agreed to form a minority coalition with the support of the country's largest far-right party, the Sweden Democrats.
The SDs are not formal members of the coalition but have agreed to help shape its policies by backing them in parliament.
In Italy, Giorgia Meloni formed a new ruling coalition, giving the country its first far-right-led government since the end of the Second World War.
Meloni also became the first woman to serve as the country's prime minister. During her election campaign, she pledged to reduce taxes, impose a naval block to stop illegal immigration and put Italians' interests first within the EU.
However, she now needs to guide Italy through a critical energy crisis and surging inflation.
In the UK, former premier Boris Johnson was forced to resign after a wave of political scandals.
Liz Truss was named his successor after meeting the late Queen Elizabeth II at Balmoral Castle on September 6th. The Queen died only a couple of days later
Truss announced her resignation just a month and a half afterwards and became the shortest-serving prime minister in British history.
Former Chancellor Rishi Sunak took the post in October, despite initially losing the contest to Truss, but eventually taking the top job after a disastrous mini-budget announcement by Truss's team.
Away from Europe, the highlight was the return of Luiz Inacio Lula da Silva in Brazil. The left-wing candidate beat far-right Jair Bolsonaro in the second round of the presidential election.
In the United States, Republicans have won back control of the House of Representatives, just scraping a victory from midterm elections that many expected to be a red wave of wins, but instead, Democrats fared better than expected.
Former President Donald Trump announced that he will seek the Republican presidential nomination in 2024.