Ukraine 'can win' war against Russia, says NATO chief Stoltenberg
Comments
By Euronews with AP, AFP, Reuters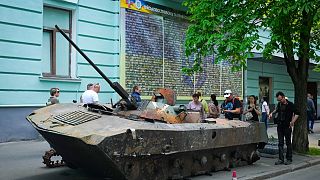 -
Copyright

AP Photo/Efrem Lukatsky
In the third month of Russia's war against Ukraine, fighting continues in the country's east and south, with Putin's forces struggling to make significant progress.
See our blog below for a summary of Sunday's developments.
05.15.2022
09:50
Sunday's key points:
NATO's Secretary General Jens Stoltenberg has said that Ukraine "can win" its war with Russia, and that Moscow's offensive is failing.
He was speaking as NATO diplomats met on Sunday in Berlin to discuss anticipated membership bids by Finland and Sweden, as well as providing further support to Ukraine.
Finland has confirmed its intention to join NATO, at a joint news conference given by the president and prime minister. Sweden's ruling party also backed membership for its country, paving the way for a joint application with its neighbour. 
Turkey has reiterated its opposition to the applications, claiming that Finland and Sweden both support Kurdish groups it considers "terrorist" organisations.
UK military intelligence says Russia has probably lost a third of the ground combat forces it committed in the February invasion.
Russia fired missiles at Ukraine's western Lviv region overnight, destroying military infrastructure, Ukrainian authorities said.
President Zelenskyy has hailed Ukraine's Eurovision Song Contest victory and vowed that his country will host the competition next year.
The frontman of winners Kalush Orchestra said they were "ready to fight" in the war with Russia once more when they return to their country.
05.15.2022
19:23
Russia says it strikes Ukraine positions in battle for Donbas
Russia said on Sunday it had pummelled Ukrainian positions in the east with missiles, targeting command centres and arsenals as its forces seek to encircle Ukrainian army units in the battle for Donbas.
Russia's defence ministry said rockets had hit two command points, 11 company positions and four artillery stores in four regions of the eastern Donetsk region, some deep in Ukrainian-controlled territory between Donetsk and Izium.
Russian forces, the defence ministry said, had hit areas near the cities of Baxmut and Kostyantynivka. Russia also destroyed two S-300 missile systems and a radar post in the Sumy region of north-eastern Ukraine, the defence ministry said.
Russia said that since the start of the military operation, its forces had destroyed 165 aircraft, 125 helicopters, 879 unmanned aerial vehicles, 306 anti-aircraft missile systems, and 3,098 tanks and other armoured combat vehicles.
The reports from the Russian defence ministry could not be independently confirmed.
(Reuters)
05.15.2022
17:43
Sweden's ruling party backs bid to join NATO 
Sweden's ruling Social Democratic Party on Sunday gave the green light to a NATO bid, paving the way for the government to apply for membership jointly with Finland.
At an extraordinary meeting on Sunday, the leadership decided that the party would "contribute to a Swedish application for NATO membership", the Social Democrats said in a statement, reversing their long-standing line.
The party has long been opposed to NATO membership, but has changed stance over Russia's invasion of Ukraine and the subsequent war.
"At its meeting today, 15 May 2022, the party board of the Social Democrats has decided that the party will work for Sweden to apply for membership of NATO," said the statement.
"The Social Democrats will thus work for Sweden, if the application is approved by NATO, to declare unilateral reservations against the deployment of nuclear weapons and permanent bases on Swedish territory."
Earlier on Sunday Finland's president and prime minister announced that the Nordic country intends apply for NATO membership, in another historic policy shift from the country's traditional neutrality.
(Euronews/ AFP)
05.15.2022
16:55
'Strong consensus' over Finland and Sweden joining NATO — Blinken
U.S. Secretary of State Antony Blinken voiced confidence on Sunday that NATO members would support Finland and Sweden joining NATO.
"There is very strong consensus for bringing Finland and Sweden into the alliance if they choose to formally apply," he said following a meeting of top NATO diplomats in Berlin.
Finland declared a "new era" is underway after announcing Sunday its intention to join NATO, while Sweden has also already taken steps toward joining the alliance.
NATO member Turkey has raised concerns about the two countries joining, alleging they support Kurdish militants that Ankara considers terrorists.
Blinken said there were ongoing conversations being held between Turkey, Finland Sweden but stressed "when it comes to the membership process I am very confident that we will reach consensus".
On the sidelines of the meeting, Blinken met earlier Sunday with Ukrainian counterpart Dmytro Kuleba to discuss the impact of the war and how to get Ukraine's grain to international markets.
(AP)
05.15.2022
15:16
Ukraine 'can win' war against Russia, says Stoltenberg
NATO's Secretary General Jens Stoltenberg has said that Ukraine "can win" its war with Russia, and that Moscow's offensive is failing.
"Russia's war in Ukraine is not going as Moscow had planned. They failed to take Kyiv," Jens Stoltenberg told reporters by video link, following an informal meeting of NATO foreign ministers in Berlin. "They are pulling back from Kharkiv and their major offensive in Donbas has stalled."
He was speaking alongside Germany's Foreign Minister Annalena Baerbock, who said that NATO allies were ready to continue providing military aid to Ukraine for "as long as necessary".
"We agree that we will not relax our national efforts, in particular in the field of military assistance, and that we will not do so as long as Ukraine needs this assistance for the self-defence of its country," the German minister said.
Stoltenberg added that the anticipated NATO membership bids from Finland and Sweden would be a "historic moment" and were proof that "aggression does not pay". The NATO chief said their applications would strengthen common security and show that the alliance's door was open.
(Reuters/ AFP)
05.15.2022
14:41
Kyiv residents react to Eurovision victory
Ukraine's Eurovision victory on Saturday night offered a moment of joy to the people of Kyiv, whose daily lives are still marked by the war.
The group Kalush Orchestra, whose song "Stefania" mixes hip-hop and traditional music, won the competition in Turin on Saturday night ahead of the British and Spanish representatives.
The victory "is a little ray of happiness," Iryna Vorobey, a 35-year-old entrepreneur, told AFP. The support of the European public has been "incredible", "it is very important for us in the current context", she said.
"I am very happy (...), this victory is so good for my morale", added Andriy Nemkovych, a 28-year-old project manager.
But some on Sunday were nevertheless keen to put the event into perspective.
"It's not the most important thing right now," said Vadym Zaplatnikov, 61. "Getting Crimea back would be something else entirely," he said.
Saturday night's triumph in Italy was Ukraine's third Eurovision win, following the 2004 and especially the 2016 triumph, two years after Moscow annexed the Crimean peninsula. In that contest, Jamala won with her song "1944", a song about the deportation of Tatars by Stalin. (AFP)
See our report from Odesa here:
euronews
Ukraine's Eurovision victory came as a boost to morale in a country shaken by war. But some stressed it's important that concrete help follows suit.
05.15.2022
12:16
Finland confirms decision to apply to join NATO
Finland has decided to apply for NATO membership, the Nordic country's president and prime minister announced on Sunday, a direct consequence of the Russian invasion of Ukraine.
"This is a historic day. A new era has begun," Finnish President Sauli Niinistö told a joint news conference alongside Prime Minister Sanna Marin.
The Finnish Parliament is expected to endorse the decision in coming days, but it is considered a formality.
A formal membership application will then be submitted to NATO headquarters in Brussels, most likely at the some point next week. NATO members' foreign ministers meet on Sunday in Berlin.
But objections from Turkey to both countries' bids will have to be overcome.
Read the full story here and watch our report:
euronews
President Sauli Niinistö and Prime Minister Sanna Marin made the announcement at a joint news conference at the Presidential Palace in Helsinki.
05.15.2022
11:29
Frontlines moving in 'Battle of the Donbas'
A Ukrainian counteroffensive was underway near the Russian-held town of Izium, but its military reported on Sunday that Russian forces were advancing elsewhere in the Donbas region, which has become the main theatre of war over the past month.
"Despite losses, Russian forces continue to advance in the Lyman, Sievierodonetsk, Avdiivka and Kurakhiv areas in the broader Donbas region," Ukraine's military said.
Ukraine's military reported destroying eight Russian tanks, five artillery systems, along with other armoured vehicles, and drones in fighting across the Donbas over the previous day.
A regional governor said Ukrainian forces had mounted a counter attack near Izium, a strategic city straddling the Donets river, about 120 km southeast on the highway from Kharkiv.
"The hottest spot remains the Izium direction," Governor Oleh Sinegubov said in comments aired on social media. "Our armed forces have switched to a counteroffensive there. The enemy is retreating on some fronts and this is the result of the character of our armed forces."
Reuters could not independently verify the Ukrainian reports.
Having resisted fiercely since Russia launched its invasion on February 24, Ukraine's military has notched a string of successes, first forcing Russia's commanders to abandon an advance on the capital Kyiv, and then making rapid gains in the northeast in recent week to drive the enemy away from the second biggest city of Kharkiv.
Since mid-April, Russian forces have focussed much of their firepower on the east for what has become known as the "Battle of the Donbas".
(Reuters)
05.15.2022
10:39
Eurovision win shows 'immense support' for Ukraine — NATO deputy chief
Nato's Deputy Secretary-General Mircea Geoana said on Sunday that the triumph of Ukrainian band Kalush Orchestra on Saturday night in Turin, Italy, at the Eurovision Song Contest showed the "immense public support" for Ukraine under attack from Russia.
"We saw yesterday (Saturday) the immense support of the public all over Europe (...) Of course the song was beautiful, it is beautiful," he said ahead of the Western military alliance foreign ministers' meeting in Berlin, adding that the Russians had "launched the most brutal and cynical war since the Second World War".
Top NATO diplomats are meeting Sunday in Berlin to discuss providing further support to Ukraine. Geoana said Russia's military advance in Ukraine appears to be faltering and he expressed hope that Kyiv can win the war.
"The brutal invasion (by) Russia is losing momentum," he told reporters. "We know that with the bravery of the Ukrainian people and army, and with our help, Ukraine can win this war."
The NATO meeting will also consider moves by Finland, Sweden and others to join the western alliance in the face of threats from Russia.
"Finland and Sweden are already the closest partners of NATO," Geoana said, adding that he expected allies to view their applications positively.
(AFP/ AP)
For a summary of Saturday's developments, click here.