'Ukraine wins Battle of Kharkiv', say US analysts as Russian troops withdraw
Comments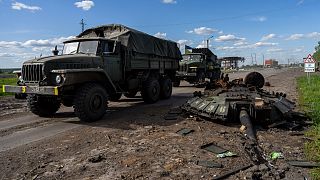 Copyright

AP Photo/Bernat Armangue

-
In the third month of Russia's war against Ukraine, fighting continues in the country's east and south, with Putin's forces struggling to make significant progress.
For Sunday's latest updates click here to see our new live blog and TV coverage.
See how Saturday's events unfolded in our blog below.
05.14.2022
09:35
Saturday's key points:
Russian troops are withdrawing from the area around Kharkiv, with US analysts saying Ukraine seems to have "won the battle" for the country's second largest city.
Ukrainian counteroffensives and Russian reinforcement problems likely forced the withdrawal, says the Institute for the Study of War.
The Ukrainian military said Russian troop withdrawals from Kharkiv were Russia's "main activity" in the region.
Finland's President Sauli Niinistö has formally notified Vladimir Putin of the country's move to join NATO, in a phone call on Saturday. The Russian leader said it would be a mistake.
The question of Finland's NATO membership, as well as that of Sweden, was due to be discussed at a meeting of NATO foreign ministers in Berlin. Turkey is opposed.
The G7 warned on Saturday that the war is stoking a global food and energy crisis threatening poor countries with hunger and famine. Germany's Foreign Minister Annalena Baerbock accused Moscow of extending the military war to a "grain war" by blocking exports from Ukraine.
Russia's electricity exports to Finland stopped overnight following an announcement from a Russian supplier. Finland says it can make up the difference with imports from Sweden.
Russian Foreign Minister Sergey Lavrov accused the West of declaring "total hybrid war" on his country, claiming Moscow can find other economic partners to offset sanctions.
Ukraine's entry is expected to attract a large solidarity vote in Saturday's Eurovision Song Contest in Turin.
05.14.2022
19:02
US Republicans visit Zelenskyy in Kyiv
Senate Republican leader Mitch McConnell and a delegation of US Republican senators met with Ukraine's President Zelenskyy in Kyiv during an unannounced visit on Saturday, delivering the latest show of American solidarity with the country at war with Russia.
A video posted on Zelenskyy's Telegram account showed McConnell, and Senators Susan Collins of Maine, John Barrasso of Wyoming and John Cornyn of Texas greeting him in the capital.
It was the second high-profile congressional delegation to stop in Ukraine in as many weeks after a visit by prominent US Democrats.
Zelenskyy, in an Instagram post, praised "a strong signal of bipartisan support for Ukraine from the United States Congress and the American people."
The trip came at a time when the Senate is working to approve a nearly $40 billion package for Ukraine, a substantial infusion of support that will push American aid to the region well above $50 billion.
The measure includes $6 billion for Ukraine for intelligence, equipment and training for its forces, plus $4 billion in financing to help Ukraine and NATO allies build up their militaries.
"They're only asking for the resources they need to defend themselves against this deranged invasion," McConnell said this past week of the Ukrainians. "And they need this help right now."
On May 1 House Speaker Nancy Pelosi visited Kyiv with a group of House Democrats, and promised Zelenskyy that the United States will "be there for you until the fight is done."
US First lady Jill Biden visited western Ukraine last weekend for a Mother's Day meeting with Zelenskyy's wife, Olena Zelenska.
(with AP)
05.14.2022
18:47
Ukraine launches counteroffensive near Izium, says governor
Ukrainian forces have launched a counteroffensive near the Russian-held town of Izium in eastern Ukraine, a regional governor said on Saturday.
"The hottest spot remains the Izium direction," regional governor Oleh Sinegubov said in comments aired on social media.
"Our armed forces have switched to a counteroffensive there. The enemy is retreating on some fronts and this is the result of the character of our armed forces," he said.
It could prove a serious setback for Moscow's plans to capture the entire Donbas region, where Putin's forces have focused much of their firepower after they failed to take control of the capital Kyiv and the north of the country in the early weeks of the war.
But Ukraine has been retaking territory in its northeast, driving the Russians away from the second-largest Ukrainian city of Kharkiv.
Keeping up pressure on Izium and Russian supply lines will make it harder for Moscow to encircle battle-hardened Ukrainian troops on the eastern front in the Donbas.
(Euronews with Reuters)
05.14.2022
18:13
Finnish FM 'confident' of agreement with Turkey over NATO
Finnish diplomatic chief Pekka Haavisto said Saturday he was confident of reaching an agreement with Turkey despite Turkish President Recep Tayyip Erdogan's hostility to his country's and Sweden's NATO membership.
Speaking ahead of a series of talks with Nato members, including Turkey, in Berlin, Pekka Haavisto said he was "confident that in the end we will find a solution and that Finland and Sweden will become members of Nato".
Turkey, also a NATO member, has threatened to block Finnish and Swedish membership.
President Recep Tayyip Erdogan said he did not want to see "the same mistake made when Greece joined", a neighbour with which Turkey has historically had complicated relations.
He also accused the two Nordic countries of serving as a "hostel for terrorists from the PKK", the Kurdistan Workers' Party, considered a terrorist organisation by Ankara, but also by the European Union and the United States.
(AFP/ Euronews)
05.14.2022
17:27
Kyiv renames Soviet monument
The People's Friendship Arch, an iconic Soviet monument in downtown Kyiv, was renamed the Ukrainian People's Freedom Arch on Saturday, following a decision by the city council.
The move was announced on Telegram by the capital's mayor, Vitali Klitschko.
The mayors also "approved a list of more than 40 monuments and memorial emblems that will have to be removed from the streets and buildings of the capital to be handed over to the museum of totalitarianism," he added.
While many places or monuments are to be renamed, Vitali Klitschko said the process of naming the new names would take time and would involve "specialists", including historians, "so as not to make a hasty decision".
The Peoples' Friendship Arch is an imposing 35-metre high metal arch erected in a city centre park in 1982. It was part of the same complex as the sculpture of the two Russian and Ukrainian workers dismantled last month.
In 2018, anti-Russian activists put a trompe l'oeil sticker on it, showing a crack in the centre of the arch to highlight the breakdown in relations between the two countries.
Many people in Kyiv are calling for the renaming of other symbols whose names are linked to Russia or its ally Belarus.
The Kyiv metro organised an online consultation during which voters voted to rename the "Minsk" station "Warsaw", the "Beresteiska" station "Buchanskaya", and the "Place Leo-Tolstoy" station after the Ukrainian dissident poet Vasyl Stous, who died in a Soviet labour camp.
(AFP)
05.14.2022
17:12
West has declared 'hybrid war' on Russia, says Lavrov
Russian Foreign Minister Sergey Lavrov said Saturday the collective West has declared a hybrid war against Russia.
During the annual Assembly of the Council on Foreign and Defence Policy, Lavrov stressed that Russia changes "with circumstances and draws its own conclusions".
Speaking of the special military operation, Lavrov added that the choice Russia made "has been explained by the fact that the collective West declared a total hybrid war on us."
"It's difficult to predict how long it will last, but it's clear consequences will be felt by everybody without exception," Lavrov said.
Lavrov also said that "United States will punish any country able to carry out independent policy."
Russia's foreign minister said efforts by the West to isolate his country were doomed to fail, and said Moscow was confident of finding new economic partners in the face of sanctions.
Russia's relations with China were the best they had ever been and it was developing a privileged strategic partnership with India, Lavrov said.
Just back from a trip to the Middle East, he also cited the importance of ties with Egypt, Algeria and Gulf nations, as well as Asia, Africa and Latin America.
Yet despite Russia's insistence it can thrive under sanctions, its economy is on track to shrink by somewhere between 8.8% and 12.4%, according to an economy ministry document seen by Reuters.
Annual consumer inflation accelerated in April to 17.83%, its highest since 2002.
(AP/ Reuters)
05.14.2022
17:01
Putin's war aggravating world hunger — German minister 
Germany's agriculture minister said on Saturday he believes that Putin's strategy is "to make sure that Ukraine, which he cannot defeat, is at least economically destroyed".
In his closing statements at the end of the G7 meeting of agriculture ministers in Stuttgart, Cem Ozdemir argued that global food insecurity had been exacerbated by the Ukraine war and climate change.
"We have looked at the issue of global food security from two sides, not only that the climate crisis threatens food security, but also the war has once again massively increased the pressure on global food systems. Putin's unjustified war is exacerbating world hunger," Ozdemir said.
The G7 wants to help supply food to the Ukrainian population, support Ukrainian agriculture and also help find export routes for the grain still in storage to alleviate international food shortages.
Millions of tons of grain currently cannot be exported from Ukraine because Russia is blocking ports.
G7 countries want to take measures to stabilise international food markets and have warned that the global food and energy crisis threatens poor countries.
"There must be no excessive stockpiling of food in the member states. That would lead to further price increases. And in this context, we have also spoken out against export freezes and call for keeping markets open," Ozdemir said.
(AP)
05.14.2022
16:49
NATO membership would damage Finnish-Russian relations, says Putin
Russian President Vladimir Putin warned his Finnish counterpart Saturday relations between the two neighbours could be "negatively affected" if Finland follows through with plans to apply for NATO membership.
The Kremlin's press service said in a statement that Putin told Sauli Niinisto that Finland's abandonment "of its traditional policy of military neutrality would be an error since there are no threats to Finland's security."
"Such a change in the country's foreign policy could negatively affect Russian-Finnish relations, which had been built in the spirit of good neighbourliness and partnership for many years, and were mutually beneficial," the statement added.
The response came after Niinisto told Putin in a phone conversation that the militarily non-aligned Nordic country that has a complex history with its huge eastern neighbour "will decide to apply for NATO membership in the coming days".
According to the Kremlin statement, the two leaders also discussed Russia's military operation in Ukraine, and the possibility of achieving a political solution to the situation. Putin said negotiations between Moscow and Kyiv had been suspended due to Ukraine's "lack of interest in a serious and constructive dialogue."
(AP)
05.14.2022
16:46
Ukraine prepares to send dead Russian soldiers' bodies home
The authorities say they are acting in accordance with international law -- but accuse Moscow of being more interested in covering up losses than receiving its dead.
More details here:
Kyiv, which says it is acting according to international law, accuses Moscow of ignoring repeated offers for the dead Russian troops to be returned.
05.14.2022
16:19
Blocked grain exports threaten to bring hunger and famine — G7
The Group of Seven leading economies warned Saturday that the war in Ukraine is stoking a global food and energy crisis that threatens poor countries, and urgent measures are needed to unblock stores of grain that Russia is preventing from leaving Ukraine.
Read more here:
"Russia's war of aggression has generated one of the most severe food and energy crises in recent history which now threatens those most vulnerable across the globe," the world's leading economies said.
For a summary of Friday's developments, click here.