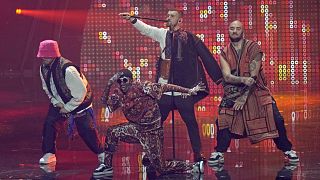 Ukrainian band Kalush Orchestra won the Eurovision Song Contest in the early hours of Sunday in a clear show of support for the war-ravaged nation.
The six-man band that mixes traditional folk melodies and contemporary hip hop in a purposeful defense of Ukrainian culture was the sentimental and bookmakers' favorite among the 25 bands and performers competing in the grand finale. The public vote from home was decisive in securing their victory.
The band's front man, Oleg Psiuk, took advantage of the enormous global audience to make impassioned plea to free fighters still trapped beneath a sprawling steel plant in the southern port city of Mariupol following the six-man band's performance.
Ukraine's song, "Stefania,'' was written as a tribute to the frontman's mother, but has transformed since the war into an anthem to the beleaguered nation, as lyrics take on new meaning. "I'll always find my way home, even if all roads are destroyed," Kalush Orchestra frontman Oleh Psiuk wrote.
The six-member, all-male band received special permission to leave the country to represent Ukraine and Ukrainian culture at the music contest. One of the original members stayed to fight, and the others plan to return as soon as the contest is over.
Follow all the action as it unfolded on Saturday evening in blog:
05.15.2022
00:42
Well that's all the jury votes in, and the United Kingdom already has reason to celebrate considering they got a grand total of nul points last year! 
The top 5 countries after the jury vote are:
United Kingdom
Sweden
Spain
Ukraine
Portugal
Remember the jury votes make up 50% of the total and now we'll have the votes from the public across Europe which as we've seen in the last few years can completely change everything! 
In a few minutes we will have a brand new Eurovision winner, stay tuned! 
05.15.2022
00:04
Well, that's the voting all done! 
Did you cast your votes by phone, sms text message or on the official Eurovision app?
All those votes have now been officially verified!
50% of the votes come from juries and we will first hear from all the national juries first, whether or not their songs were in the final. 
And then after that the hosts will read out votes from the public for each of the finalists. 
It's a nerve-wracking time! 
05.15.2022
00:01
Did you know: From 1977 to 1980 there was a Cold War rival to Eurovision Song Contest called Intervision Song Contest. 
It was mostly Eastern Bloc countries which sent contestants but a few Western countries participated. 
We talked to Marion Rung who competed at the Eurovision Song Contest for Finland in 1962 and 1973 and then went on to win Intervision in 1980. 
Read more at our story here: 
euronews
Meet the last winner of the Intervision Song Contest, the Eastern Bloc rival to Eurovision which ran from 1977 to 1980.
05.14.2022
23:48
And who's on stage now? It's one of our hosts Mika doing a medley of his greatest hits. 
He's a fantastic showman! 
05.14.2022
23:44
Did you know: Canada will be joining the Eurovision family next year. Yes, you read that right, Canada! 
Canadian provinces will have their own selection process and host a grand final to choose the best Canadian song.  
Of course we've already had one Canadian winner of Eurovision: Quebec-born Céline Dion won for Switzerland in 1988 with Ne Partez Pas Sans Moi. 
Read more at our story here: 
05.14.2022
23:42
If you're wondering who's on stage now at Eurovision, it's Gigliola Cinquetti singing the song she won the contest with in 1964 Non Ho L'Età. 
What a fantastic performance tonight, and back in 1964 in Copenhagen! 
05.14.2022
23:36
Did you know: until 1999 there used to be a live orchestra performing with each country. Unfortunately it was dropped due to budget costs, and never reinstated again. 
Each country would send their own conductor to Eurovision to take charge of the orchestra for their act and recently we talked with Monica Dominique who was the first ever female conductor way back in 1973. 
Monica was the composer of the Swedish song 'You're Summer' that year, arranged the score, and took the baton to lead the orchestra. 
Read more at our story here: 
05.14.2022
23:31
Remember the poll we set at the beginning of the live blog? 
Here's how it's looking so far after you've heard all 25 songs. 
If you haven't voted yet in our poll, what are you waiting for?!