Ukraine war: Defence minister says 'no swift end to war in sight'
Comments
By Euronews with AP, AFP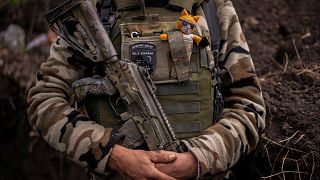 Copyright

Bernat Amangue / The Associated Press

-
In the third month of Russia's war against Ukraine, fighting continues in the country's east and south, with Moscow forces struggling to make any progress. 
For Saturday's latest updates click here to see our new live blog and TV coverage.
Follow the events on Friday as they unfolded in our blog below.
05.13.2022
06:33
Friday's key developments
Ukraine's defence minister says there is "no swift end to the war in sight." Writing on social media the minister said weapons promised by Western countries would take some time to begin turning the tide in Ukraine's favour.

A glowing report has paved the way for Sweden's NATO membership, despite warnings by Russia that there will be "consequences" if it and Finland sign up to the alliance. 

G7 talks with Ukraine have entered their second day, with France saying the group will support the country until its 'victory'. 

The EU is planning to send a €500 million package of military aid to Ukraine, although it still needs approval. 

Russia is stealing Ukrainian grain and trying to sell it on global markets, Ukraine's foreign ministry claims.

Ukraine's top prosecutor disclosed plans for the first war crimes trial of a captured Russian soldier.

Moscow has still not given up on Kyiv, and it wants to take Mykolayiv and Odesa to create a land bridge to the Moldovan separatist region of Transinstria, Ukrainian military believes. 

Ukraine has asked the G7 to seize and hand over Russian assets.

The UN's refugee agency says more than 6 million people have now left Ukraine.
05.13.2022
23:01
That's our live blog wrapping up for Friday night. 
We're back on Saturday morning with all the latest developments. 
05.13.2022
23:00
US 'working to clarify' Turkey's position on Finland, Sweden and NATO
Washington is "working to clarify Turkey's position" after President Recep Tayyip Erdogan threatened to block Finnish and Swedish membership of Nato, White House spokeswoman Jen Psaki said Friday.
A future membership of these two countries has received "broad support" from other members of the Atlantic Alliance, she said.
Finland and Sweden can only be admitted after a unanimous vote by existing members.
The Turkish president's announcement has thrown a spanner in the works of a process that has so far been supported by most Nato members, including the United States, and by the alliance's secretary-general, Jens Stoltenberg, who said he was ready to welcome the two Nordic countries "with open arms".
The United States is seeking "to better understand Turkey's position", Pentagon spokesman John Kirby said, adding that the country was "a valued NATO ally" and that this had "not changed".
Turkey "has been involved and effective in trying to establish a dialogue between Russia and Ukraine, and has provided assistance to Ukraine," he added. "So nothing changes in terms of its position in the Nato alliance."
Recep Tayyip Erdogan said he did not want to see "the same mistake made when Greece joined", a neighbour with which Turkey has historically had complicated relations.
He also accused the two Nordic countries of serving as a "hostel for terrorists from the PKK", the Kurdistan Workers' Party, considered a terrorist organisation by Ankara, but also by the European Union and the United States.
(AFP)
05.13.2022
21:23
Breakaway Georgia region to hold Russia referendum
The authorities of the pro-Russian Georgian breakaway region of South Ossetia announced on Friday that they would hold a referendum on 17 July on its integration with Russia.
"President" Anatoly Bibilov "signed a decree on holding a referendum in the republic of South Ossetia," his office said in a statement, referring to the "historic aspiration" of the inhabitants of this small Caucasian territory to join Russia, with which it borders.
"We are coming home," Bibilov commented on the Telegram messenger. 
"The time has come to unite once and for all," "South Ossetia and Russia will be together. This is the beginning of a great new history," he added. 
Anatoly Bibilov failed to win re-election as "president" earlier this month and Russia expressed hope that his successor in the post, Alan Gagloev, would provide "continuity" in relations with Moscow.
South Ossetia was at the centre of the 2008 Russian-Georgian war, after which the Kremlin recognised its independence as well as that of another Georgian separatist region, Abkhazia, and established military bases there.
The announcement of the upcoming referendum came on the 79th day of the Russian invasion of Ukraine. 
The Ukrainian separatist regions of Donetsk and Lugansk, whose independence has also been recognised by Moscow, have also expressed interest in becoming part of Russia. 
The offensive against Ukraine has sparked a wave of solidarity in Georgia. 
(AFP)
05.13.2022
20:07
Ukraine defence minister: 'No swift end to the war in sight'
Ukraine's defense minister admitted Friday that there was no swift end to the war with Russia in sight.
Writing on social media, Oleksii Reznikov said that Western weapons would take some time to begin turning the tide in Ukraine's favour.
"We are entering a new -- long-term -- phase of the war," Reznikov said in a Facebook post. "Extremely difficult weeks await us. How many there will be -- no one can say for sure."
He added that Russia was unable to sweep across Ukraine and capture its capital, and is now "forced to reduce the scale of its targets down to the operational-tactical level."
"We are witnessing a strategic turning point in favor of Ukraine. This process will last for some time," he said.
Reznikov said Ukraine is "slowly, but nevertheless" receiving heavy weapons transfers from Western partners. Kyiv expects more weapons following the meeting of the defense chiefs of more than 40 countries at the American Ramstein base in Germany last month, which Reznikov referred to as "a historic meeting."
More than 1,500 Ukrainian troops are already being trained in the use of Western equipment, or set to begin training in the coming days.
(AP)
05.13.2022
19:56
US says Russia used UN to spread disinformation
The United States is again accusing Russia of using the United Nations Security Council to spout disinformation and conspiracy theories about biological weapons in Ukraine to distract from its brutal war against its smaller neighbor.
US deputy ambassador Richard Mills called the Russian claims of alleged US involvement in a biological weapons program "categorically false and ludicrous."
He warned the council Friday that Moscow's actions follow a pattern of accusing others of violations it has perpetrated or intends to perpetrate, adding that they need to be watched closely "for the possibility of a false flag chemical or biological attack by Russia's forces."
UN deputy disarmament chief Thomas Markram reiterated to the council what his boss said at council meetings on March 11 and March 18 on similar Russian allegations: The United Nations is not aware of any biological weapons program in Ukraine.
Russia's UN Ambassador Vassily Nebenzia said at the opening that he called for a third council meeting because his government continues to receive "very worrying documentary evidence" that the US defense department is directly involved in carrying out "dangerous biological projects that look like a secret biological military program" in Ukraine.
After the 15 council members spoke, all calling for an end to the war and Western nations strongly backing the US position, Russia's deputy UN ambassador Dmitry Polyansky asked for the floor, accusing the United States of not providing any information about the aims of its biological activities in Ukraine.
(AP)
05.13.2022
18:58
Russia cuts electricity to Finland - but with no real impact
Finland's power grid operator said it would be able to do without power imports from Russia, which were suspended on Saturday due to unpaid bills, as Finland prepares to announce its NATO membership bid.
"We were prepared for this and it won't be difficult. We can manage with a bit more imports from Sweden and Norway," Timo Kaukonen, an operations manager at operator Fingrid, told AFP new agency on Friday.
"Just under 10%" of Finland's electricity consumption comes from Russia, with up to 900 megawatts (MW) of import capacity currently available, he said.
Russia will suspend its electricity supplies to Finland from Saturday because of unpaid bills, RAO Nordic Oy, a wholly-owned Russian company, announced on Friday.
The company said it had not received payment for electricity supplied to Finland since 6 May, without saying whether the payment problems were linked to EU sanctions against Russia after the invasion of Ukraine.
A message to this effect appears on the website of Nordpool, the Nordic electricity market, with electricity deliveries halted from midnight local time (21:00 GMT) on Friday night.
This announcement comes against a backdrop of rising tensions between Moscow and Helsinki, which has announced its desire to join NATO "without delay" under the influence of the Russian offensive in Ukraine. This intention is viewed very negatively by Moscow, which has already threatened a "military-technical" response.
At the end of April, Fingrid had reduced the import capacity from Russia from 1,300 to 900 MW in order to "safeguard the security of the electricity system in Finland" in the context of "the changing international situation".
(AFP)
05.13.2022
18:39
Lativa dismantles last Soviet monument in capital 
A giant monument to the glory of the Red Army, dating back to the Soviet era, has been taken down in the Latvian capital of Riga on Friday. 
The statue had been subject to much controversy in the Baltic state, which shares a border with Russia and was once in the USSR. 
Riga city council instructed the Municipal Monuments Agency to organise the dismantling of this 79-meter-high monument.
It was built between 1979 and 1985 to commemorate the victory of the Soviet army over Nazi Germany in World War II.
Once a year, thousands of Russians in Latvia - who make up about 30% of the population - gather on May 9 to commemorate the victory over Nazi Germany in 1945. 
Most Latvians see this date as the beginning of the Soviet occupation until 1991 and the coming of difficult times. 
"The demolition work will not be cheap, because the monument is made of reinforced concrete and consists of several giant sculptures," said Martins Stakis, mayor of Riga. 
Almost all monuments and plaques from the Soviet era, except those located in the cemeteries of soldiers, were removed in 1991. 
However Riga monument in Riga was protected under a 1994 treaty between the Republic of Latvia and the Russian Federation. 
On Thursday, the Latvian parliament voted to amend this treaty, which deprived the monument of legal protection. 
In a tweet, the Russian embassy in Riga said Thursday "outraged" by this step "traitorous and unjustified which has no moral or legal basis".
Activists in 1997 tried to demolish the monument with dynamite but the explosion went off prematurely, killing two. 
Later, several petitions in favour of the demolition reached the necessary threshold of 10,000 signatures, but each time the proposal was rejected/ 
Debates around dismantling the monument resumed immediately after the Russian attack on Ukraine, especially after the discovery of mass graves in the country. 
05.13.2022
18:24
EU poised for agreement on Russian oil embargo, despite concerns, say diplomats
The European Union could agree on a phased embargo on Russian oil next week, despite concerns about supply in eastern Europe, according to EU diplomats and officials. 
"There will be a deal," hinted one senior diplomat to Reuters, while a second said an agreement could come as early as Monday when Eu foreign ministers meet in Brussels.
Another said there was a chance of an agreement later in the week. 
"This is going to be decided at the highest political level, between Budapest and Brussels," said one diplomat. "I am optimistic." 
An embargo on Russian oil was first proposed by the European Commission in May.
However, dependence on energy supplies from Russia in Bulgaria, the Czech Republic, Hungary and Slovakia poses a big obstacle to the plans. 
Hungary has already obtained an exemption until the end of 2024, as has Slovakia, and the Czech Republic would have until mid-2024.
05.13.2022
16:47
Zelenskyy 'ready' for talks with Putin - but only if Russian forces 'get out' of Ukraine
Ukrainian President Volodymyr Zelenskyy has reiterated an offer to hold talks with the Russian leader, but only if the country's forces 'get out' of territory they have occupied since the outbreak of war. 
The comments mark the Ukrainian president's clearest public declaration on possible peace talks with Russia, which have stalled in recent weeks. 
Russia's withdrawal from Ukraine is the starting point for any discussions, said Zelenskyy, adding that he is unwilling to compromise Ukraine's territorial integrity. 
"Get out of this territory that you have occupied since February 24," he told Italy's RAI 1 television, Reuters reports. "This is the first clear step to talking about anything."
The two countries have not held face-to-face discussions since 29 March, although Interfax news agency has quoted Moscow's chief negotiator, Vladimir Medinsky, as saying peace talks were being held remotely.
Zelenskyy also rebuffed suggestions that Ukraine should make concessions for the sake of securing peace, even if it would allow Putin to save face. 
"As president, I am ready to talk to Putin, but only to him," said Zelenskyy. "Without any of his intermediaries. And in the framework of dialogue, not ultimatums."
(Reuters)