Ukraine war: President Zelenskyy says he's ready to talk to Vladimir Putin
Comments
By Euronews with AP, AFP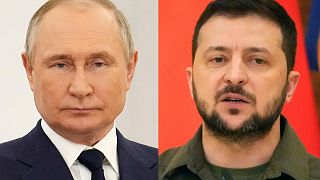 Follow events on Thursday as they unfolded in our blog below, or watch the latest updates by clicking the video player above.
05.12.2022
12:57
Thursday's key developments:
Ukraine's President Zelenskyy told an Italian TV interviewer that he was ready to talk with Russian President Putin, and said "we must find an agreement." 

The UN's refugee agency says more than 6 million people have now left Ukraine.

Russia's foreign ministry says there will be "consequences" if Finland goes ahead with its bid to join NATO. "Russia will be forced to take retaliatory steps," the ministry said in a statement. 

That comes after Finland's leaders said on Thursday morning the Nordic nation should join NATO 'without delay' in light of Russia's invasion of Ukraine.

Russia is stealing Ukrainian grain and trying to sell some of it on global markets, Ukraine's foreign ministry claims.

Supplies of Russian gas to Europe via Ukraine will drop by a third on Thursday, says Gazprom.

Ukrainian military's General Staff says Russian forces continued the bombardment of Azovstal on Thursday.

Moscow has still not given up on Kyiv, and it wants to take Mykolayiv and Odesa to create a land bridge to the Moldovan separatist region of Transinstria, Ukrainian military believes. 

Ukraine's top prosecutor disclosed plans for the first war crimes trial of a captured Russian soldier.
05.12.2022
12:55
Would Sweden or Finland joining NATO increase the chances of the Ukraine conflict spilling over?
05.12.2022
22:56
That's our live blog wrapping up for Thursday evening. 
We're back on Friday morning with all the latest developments. 
05.12.2022
21:57
Reports: Four dead, five wounded in  Donbas
Four civilians were reported dead and five more were injured in Ukraine's eastern Donetsk region on Thursday, the regional governor said.
"On May 12, the Russians killed four more civilians of the Donbas: two in Novoselivka, one in Avdiivka and one in Lyman. Five more people were injured," Pavlo Kyrylenko wrote in a Telegram post, referring to a village and two cities in the Donetsk region, one of two which make up the Donbas.
His claims could not be immediately verified.
(AP)
05.12.2022
21:33
Zelenskyy says he's ready to talk to Putin
Ukrainian President Volodymyr Zelenskyy says that he's ready to talk with Russian President Vladimir Putin and that "we must find an agreement,'' but with no ultimatum as a condition.
Zelenskyy also told Italian RAI state TV in an interview scheduled to be broadcast on Thursday night that Ukraine will never recognize Crimea as part of Russia, which annexed that part of southern Ukraine in 2014.
"Crimea has always had its autonomy, it has its parliament, but on the inside of Ukraine," Zelenskyy said, in excerpts of the interview that RAI released earlier on Thursday.
The interviewer asked the Ukrainian leader about a comment by French President Emmanuel Macron cautioning against any humiliation of Putin.
"We want the Russian army to leave our land, we aren't on Russian soil,'' Zelenskyy replied. "We won't save Putin's face by paying with our territory. That would be unjust."
In another comment, Zelenskyy sounded a forward-looking note. "We have to think of the future of Russia. I, as president of Ukraine, say these are our neighbors. There will be other presidents, other presidents and other generations" of Russia, Zelenskyy said.
(AP)
05.12.2022
20:52
Baseball signed by President Zelenskyy raises money for Ukraine relief
A baseball signed by Ukrainian President Volodymyr Zelenskyy has sold at auction for more than $50,000, a portion of which will go toward providing humanitarian aid to Ukrainians displaced by the nation's war with Russia, auctioneer RR Auction of Boston said Thursday.
The winning bid for the Rawlings Major League baseball in the auction that closed Wednesday was more than three times what is was expected to sell for.
RR Auction will donate its $15,000 cut of the sale, while seller Randy Kaplan will also donate an undisclosed portion of his proceeds, to provide humanitarian aid through the global nonprofit Americares.
Kaplan is a well-known collector of baseballs signed by world leaders who rarely auctions his prized pieces.
The winning bidder wished to remain anonymous, but was described by RR Auction as a "collector from the Midwest who is thrilled to have some of the funds go to the Ukraine relief effort."
The ball is signed with black felt tip in Ukrainian Cyrillic and Latin letters. It is accompanied by a transmittal letter signed by Volodymyr Yelchenko, Permanent Representative of Ukraine to the United Nations.
(AP)
05.12.2022
20:13
UN calls on Russia to stop bombing schools in Ukraine
The United Nations on Thursday called for an end to the bombing of schools in Ukraine, while denouncing their use for military purposes, at a UN Security Council meeting convened at the request of France and Mexico.
"These attacks (on schools) must stop," said a senior official of the United Nations Children's Fund (UNICEF), Omar Abdi. "Until last week, at least 15 of the 89 schools - one in six - supported by UNICEF in eastern Ukraine had been damaged or destroyed since the war began on 24 February," he said.
"Hundreds of schools across the country have reportedly been hit by heavy artillery, air strikes and other explosive weapons in populated areas, while other schools are being used as information centres, shelters, supply centres or for military purposes - with a long-term impact on children's return to school," Omar Abdi also denounced.
During the debate, Mexico and France recalled that the attacks on schools were a flagrant violation of humanitarian law. 
"The Russian army continues to kill civilians, including children," and "the cost of the war" for them "is terrible," said French Ambassador to the UN Nicolas de Rivière, calling for a halt to hostilities.
His Russian counterpart, Vassily Nebenzia, rejected "absurd accusations" against the Russian armed forces. Russia is providing humanitarian aid to children in Donbass (eastern Ukraine), where for more than eight years, he said, the Ukrainian army has been waging "a civil war against its own people". With a school textbook in hand, the Russian diplomat also said that the teaching of history to children in Ukraine was biased.
The Ukrainian ambassador to the UN, Sergiy Kyslytsya, called on the UN to act to reunite separated children with their families. He again accused Russia of continuing "its abductions of Ukrainian children". "After being forcibly transferred to Russia, they are illegally adopted by Russian citizens."
(AFP)
05.12.2022
19:04
Russian missiles hit Ukraine infrastructure targets
Between 8 and 12 Russian missiles hit the oil refinery and other infrastructure in the Ukrainian industrial hub of Kremenchuk Thursday, the acting governor of the central Poltava region said that same day.
In a Telegram post, Dmytro Lunin urged residents to remain in underground shelters, citing the "persistent" threat of airstrikes.
In early April, Lunin had said that the Kremenchuk refinery - Ukraine's only remaining fully functional facility of its kind at the time — was no longer operational following a Russian attack. Moscow claimed to have targeted the refinery again at the end of the month, and to have destroyed further fuel production and storage facilities.
(AP)
05.12.2022
18:29
UN Human Rights Council votes for Russia investigations
The top United Nations human rights body has overwhelmingly passed a resolution calling on its investigators to specifically look into possible rights abuses and violations in northern Ukraine shortly after Russia's invasion.
In a 33-2 vote, with 12 abstentions, the Human Rights Council concluded a special session Thursday on Russia's invasion of Ukraine also by calling on Russia to grant international human rights groups "unhindered, timely, immediate, unrestricted and safe access" to people who have been transferred from Ukraine to Russia or areas controlled by Russian forces or affiliates.
Only China and Eritrea voted against the measure, which also urged the UN human rights office to report on events in Mariupol, a besieged southeastern port city where thousands of civilians are believed to have been killed. Access to the city has been virtually nonexistent for international human rights during recent fighting there.
The council called on a team of investigators known as a Commission of Inquiry to look specifically into the "events" in the Kyiv, Chernihiv, Kharkiv and Sumy regions of Ukraine in late February and early March after Russia's invasion "with a view to holding those responsible to account." The commission was already created to investigate rights abuses and violations generally in Ukraine.
Many atrocities in the war came to light last month after Moscow's forces aborted their bid to capture Kyiv and withdrew from around the capital, exposing mass graves and streets and yards strewn with bodies in towns such as Bucha.
(AP)
05.12.2022
17:58
UN: More than 6 million people have now fled Ukraine
The United Nations' refugee agency is reporting that more than 6 million people have now fled Ukraine since the start of Russia's invasion on 24 February. 
Geneva-based UNHCR also said Thursday that the number of refugees who have returned back to Ukraine, either partially or fully, has reached more than 1.6 million. It says that number reflects cross-border movements, and doesn't necessarily indicate "sustainable" returns. The agency says it's too early to draw conclusions about "definitive trends" on returns.
Matthew Saltmarsh, an agency spokesman, also said Thursday that a total of 2.4 million people who have left Ukraine have moved beyond Ukraine's immediate border countries which have taken in the lion's share of refugees from the country. Poland alone has registered more than 3.2 million people who fled Ukraine. It and other European Union member countries have open borders, making tracking where people go a complex endeavor.
On Tuesday, the UN High Commissioner for Refugees, Filippo Grandi, tweeted that the number of refugees from Ukraine had reached the same 5.7 million figure as the tally from Syria's 11-year war, which previously was the source of the world's biggest refugee crisis.
(AP)