O2 Arena damaged as deadly storm batters UK and heads for northern Europe
Comments
By Euronews with AP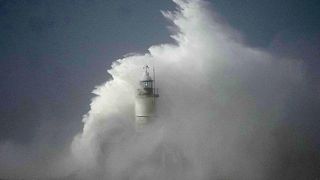 Millions of people across the UK are being urged to stay home as Storm Eunice batters the British isles with record-breaking wind gusts on its way to northern Europe.
A woman in her 30s died in London when a tree fell on a car, police said on Friday.
Britain's meteorological agency said on Friday afternoon that gusts of 122 miles per hour (196 kilometres per hour) had been recorded on the Isle of Wight.
"This is provisionally the highest gust ever record in England," it stated.
It came as footage emerged of a huge hole being torn in the roof of the O2 Arena in London.
The Met Office has put nearly the entire UK under a weather warning with a red warning declared for south-west England and southern Wales as well as across large swathes of the south-east including London.
It warned of "extremely strong" winds of up to 140 kmh and said flying debris that could be a danger to life as well as to buildings, homes and power lines are to be expected.
The vast majority of England was meanwhile placed under an amber warning with the north, Scotland and Northern Ireland under a yellow warning.
Prime Minister Boris Johnson put the army on standby on Thursday. The government is expected to hold a COBRA emergency meeting to discuss the storm on Friday.
'Do not take risks'
Storm Eunice batters the UK just two days after Storm Dudley already caused significant disruptions to travel and left tens of thousands of households temporarily without power.
Peter Inness, a meteorologist at the University of Reading in England, attributed the storms to an unusually strong jet stream over the eastern Atlantic Ocean, with winds close to 200 mph (320 kmh) at high altitudes.
"A strong jet stream like this can act like a production line for storms, generating a new storm every day or two," Inness said. "There have been many occasions in the recent past when two or more damaging storms have passed across the UK and other parts of Europe in the space of a few days."
The Environment Agency has issued 10 severe flood warnings, another indicator of life-threatening weather conditions.
Dozens of flights have been cancelled as have most ferry services across the Channel. Most train operators have urged people not to travel, with all train services suspended in Wales.
Mark Drakeford, First Minister for Wales, said on Twitter: "We're expecting significant disruptions — all trains in Wales will be cancelled and many schools are closed — so please plan ahead and only travel if absolutely necessary."
Councils across the southwest of England have declared major incidents including in Avon, Somerset and Gloucestershire and urged people not to travel.
Somerset has closed all of its schools while Devon council has encouraged its schools not to open. Both have warned of potential flooding in coastal areas. Gloucestershire on Thursday urged people living in flood areas to evacuate ahead of the storm's arrival.
A number of tourist attractions in England, including the London Eye, Legoland and Warwick Castle, closed ahead of the storm.
"Please stay at home, do not take risks, and do not travel unless absolutely essential," Mayor of London Sadiq Khan, urged on Twitter.
The London Fire Brigade reported "taking lots of weather-related calls" including a TV aerial "in a precarious position" and to a warehouse where the roof was damaged by wind, forcing the evacuation of 250 people.
Ireland's Met Eireann agency has also issued red weather warnings for most of its coastal areas.
Gerry Murphy, a meteorologist for the weather agency, explained the red warning was issued "as winds are expected to reach 80km/h with gusts in excess 130km/h".
"Red warnings mean weather conditions will be extremely dangerous with a significant threat to life — we're urging people in these areas not to make unnecessary journeys and follow advice from local authorities and emergency services," he stressed.
In County Wexford, a regional government worker was killed as he responded to the scene of a fallen tree, the local council said.
Eunice to sweep through northern Europe next
Meteo France has meanwhile placed five coastal departements under amber warning, forecasting "violent wind gusts on the coast of the English Channel" reaching up to 140 km/h and that could bring coastal flooding.
Eunice is expected to hit northern Germany on Friday afternoon and sweep eastward overnight. A flood warning was issued for Germany's North Sea coast on Friday.
Meteorologists warned Friday's storm could cause more damage than the earlier weather system, which triggered accidents that killed at least three people in Germany after trees fell on their cars. Two other people were also killed in neighbouring Poland when strong winds brought down a construction crane.
Firefighters said three more people were killed by falling trees in and around Amsterdam on Friday, while another elderly man was killed in Belgium.
The Dutch weather institute issued its highest warning, code red, for coastal regions and code orange for much of the Netherlands as Eunice bore down on the low-lying nation. The country's rail company said it would halt all trains nationwide from 2 p.m. (1300 GMT) and airline KLM also cancelled dozens of flights and Amsterdam's Schiphol Airport.