Kazan school shooting: Tatarstan Republic holds day of mourning to honour victims
Comments
By Euronews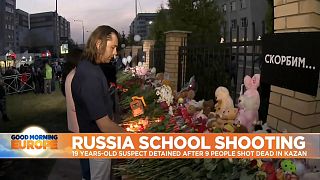 -
The Russian republic of Tatarstan observed a day of mourning on Wednesday following the deadly school shooting in Kazan.
Hundreds of flowers, toys, and candles were laid outside school No. 175, where seven children and two adults were killed on Tuesday.
Flags on several public buildings in Tatarstan were also flown at half-mast, according to local media.
The 19-year-old suspected gunman, a local resident, was detained by authorities outside the school. According to investigators, he detonated an improvised explosive device before entering the premises.
He appeared before a judge on Wednesday, charged with murder and placed in pre-trial detention for 2 months. Officials said he legally owned a firearm.
A total of 23 people remain hospitalised, including seven minors in a serious but stable condition. Students fleeing the shooting jumped out of windows, according to footage released by witnesses.
The shooting was the most serious in Russia since 2018 and has sparked debate within the country's government over gun control and internet use.
President Vladimir Putin has ordered a review of rules governing the carrying of weapons, according to his spokesman
The gunman had called himself "a god" on the messaging app Telegram and promised to kill a "large amount" of people on Tuesday morning, according to Russian media reports.
State Duma speaker Vyacheslav Volodin said Tuesday that suggestions were aired to eliminate "anonymity in the internet, which would allow, supporters of the idea believe, to drastically decrease amounts of content promoting violence."
But Telegram founder Pavel Durov said Galyaviyev made his account about the attack open to public only 15 minutes before it happened, and his posts were too vague to act on.
Residents in the Russian city of Kazan were still struggling to come to terms with the shooting on Wednesday.
Roza Miftakhutdinova is an insurance agent from the area:
"The neighbourhood is (normally) quite calm. We did not expect, we are very surprised that we had such a terrorist attack, we can say that we are in shock. I was at work, I was scared."
Aigul Smirnova is a music teacher in a kindergarten nearby. When she heard the news, she "burst into tears. I have two children, one of them is a schoolboy, and when I imagine what the children from this school went through, I feel very bad."
Watch Euronews's full report in the player above.