France demands Jersey fishing amnesty be extended from July to September
Comments
By Euronews with AP, AFP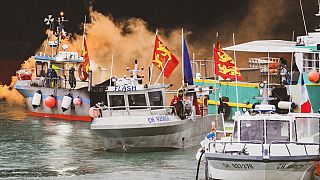 -
France has called for restrictions imposed on its fishermen by Jersey authorities be postponed until the end of September.
"To ensure a calm climate for the negotiations, all licences for the Channel Islands must be renewed until 30 September without new requirements," French Minister for the Sea Annick Girardin wrote in a letter dated Wednesday to EU Fisheries Commissioner Virginijus Sinkevicius.
She also called for a new mechanism to assess whether Jersey waters are overfished, writing that "scientific advice from ICES (International Council for the Exploration of the Sea) or Ifremer does not confirm the information from Jersey and the UK that stocks are currently overfished by French vessels."
Jersey has, earlier this week, extended the amnesty period for French fishermen to July 1.
France and Jersey — a self-governing Crown dependency — are currently embroiled in a fishing row that has seen the UK and France deploy patrol vessels to the area.
The core of the dispute is over post-Brexit arrangements for the shared waters in the stretch between France and Jersey. The government of Jersey has the sole power to issue licences, and as of last week all fishing boats were required to have one to operate there.
France said Jersey has issued licences to only 41 French vessels, out of 344 applications, and that they came accompanied with new requirements on fishing gear and number of days allowed to fish.
The French government has said these new requirements are "null and avoid", accusing the Jersey government of failing to give proper advance notice to the European Commission.
It then threatened retaliatory measures including cutting off the electricity supply to the island which Jersey and the UK have denounced as unacceptable and disproportionate.
About 50 to 60 French fishing boats, angry at losing access to Jersey waters also gathered off the Jersey port of St. Helier. on May 6 in protest.
Ahead of the event, the UK had sent two Royal Navy patrol boats to protect Jersey from a potential French blockade. The government said its vessels would remain in situ after the protest "to monitor the situation as a precautionary measure".
France's minister for European Affairs Clément Beaune said in response that "these manoeuvres don't impress us" and two French patrol vessels were then also dispatched.
"I have spoken with David Frost, the British minister responsible for relations with the European Union. Our desire is not to maintain tensions but to have a rapid and complete application of the agreement. Nothing but the agreement and the whole agreement," Beaune added.
Jersey authorities announced earlier this week that it was extending an interim period introduced on January 1 — when the UK's divorce from the bloc came into force — to July 1 to give French vessels more time to gather the evidence needed to be issued licences "as a sign of good faith."
"Jersey would like to move beyond recent events and focus on finding a resolution," Minister for External Relations Ian Gorst said in a statement.
"Jersey understands the challenges faced by both Jersey and French fishermen and we have been flexible this year, as shown by the amnesty period we introduced. We are happy to continue this approach," he also said.