Own wurst enemy: Burglar's bite of a sausage helps police trace him nine years later
Comments
By Euronews with AP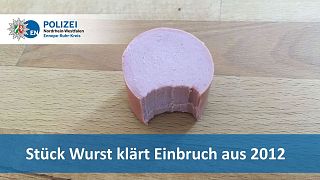 -
German police say they have solved a nine-year-old burglary using DNA on a half-eaten piece of sausage.
Authorities in the western town of Schwelm say the evidence matched a man in France, who had recently been detained for a separate "violent crime".
The burglary took place at a flat in Rocholzallee in Gevelsberg in March 2012.
The sausage, which belonged to the victim, was found as evidence by police after the burglar appeared to have let his hunger get the better of him during the raid.
"While securing evidence at the scene of the crime, detectives found a piece of sausage that had been bitten into, on which DNA could be found," police said in a statement.
At the time the DNA did not return any matches, but authorities were later alerted to a suspect after the data was compared with international criminal databases.
"The perpetrator was, therefore, a 30-year-old man from Albania," police said. "His DNA was entered into a database in France this year after a violent crime."
But Schwelm police said the suspect remains free and he may escape punishment for the burglary because the statute of limitations - the maximum time allowed for legal proceedings to be started after a crime - has expired.