Pope Francis calls for needy, vulnerable to get COVID-19 vaccine first in Christmas message
Comments
By Euronews with AFP, AP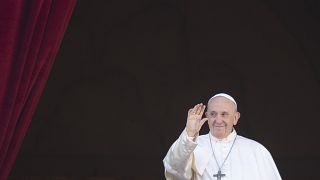 Pope Francis called for COVID-19 vaccines to be made available to the "most vulnerable and needy" first as he delivered his Christmas Day message.
"At this historic moment, marked by the ecological crisis and by serious economic and social imbalances aggravated by the coronavirus pandemic, we need fraternity more than ever", Pope Francis said.
He called on the leaders of nations, businesses and international organisations to "promote cooperation and not competition, and to search for a solution for all."
"Vaccines for everybody, especially for the most vulnerable and needy," who should be first in line, Francis said in off-the-cuff remarks from his prepared text, calling the development of such vaccines a "light of hope" for the world.
"We can't let closed nationalisms impede us from living as the true human family that we are," the pope said.
The pope traditionally gives his "Urbi and Orbi" (To the City and The World) message from the balcony of St Peter's Basilica on December 25 but this year Italy has imposed tough new restrictions over the Christmas and New Year period to stem the spread of coronavirus.
Pope Francis delivered an early Mass Thursday to a small congregation at St Peter's Basilica to comply with Italy's 10pm curfew
To celebrate the Christmas vigil, the service started at 7:30 p.m. local time, with attendees wearing masks.
Also in accordance with the COVID-19 restrictions, the Pope will not be making appearances in St Peter's Square throughout the holiday season where he would usually offer blessings to the crowd.
In his homily, the Pope said "That is what Christmas is: the birth of Jesus is the "newness" that enables us to be reborn each year and to find, in him, the strength needed to face every trial."