Coronavirus latest: UK COVID-19 death toll passes 35,000
Comments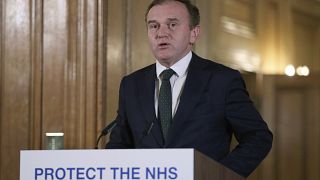 -
Summary of the latest key developments:
The UK government said 35,341 people have died from COVID-19 in the country
Britain's Office for National Statistics estimates however that more than 42,000 people have died from COVID-19 in the UK
France and Germany back EU bond to raise €500bn
The WHO has agreed to an independent probe into its handling of the crisis
Portugal care home creates 'emotion box' for family to safely visit elderly relatives
British family tell Euronews what it's like to be a coronavirus vaccine guinea pig
Follow the latest updates below:
05.19.2020
22:37
No ''mini-Schengens" because of COVID-19, warns EU chief
Euronews' Efi Koutsokosta speaks to European Commission Vice President Margaritis Schinas about the future of Europe's border-free travel Schengen zone and what European solidarity should look like once Europe comes out of the crisis.
"There is no way that returning to Schengen normality from the existing restrictions in our internal borders should be replaced by some sort of regional mini-Schengens that fragment our single market and discriminate against the non-participating member states," Schinas said.
05.19.2020
22:18
Extra-EU trade fell from €252 billion to €228 billion between January and March: Eurostat
The
bloc's official statistics agency revealed
that imports and exports with all five main trade partners -- China, Switzerland, Russia, UK, US -- decreased between January and March due to the COVID-19 pandemic.
"In March 2020, EU recorded an increase in trade balance with 8 of its 11 main trade partners compared with January 2020, with highest increases observed with China (+€2.1 billion) and the United Kingdom (+€1.2 billion)," it said.
05.19.2020
22:00
Initial surge in UK news use around COVID-19 followed by significant increase in news avoidance: Study
"The vast majority of those who always or often avoid news (86%) say they are trying to avoid COVID-19 news at least some of the time, and most of them said they are primarily worried about the effect it has on their mood (66%)," the study notes. 
05.19.2020
21:31
Divisions emerge over €500BN COVID-19 aid plan proposed by France and Germany
05.19.2020
21:13
Dutch restaurants and cafes to reopen on June 1
Prime Minister Mark Rutte said on Tuesday evening that "as long as the coronavirus remains under control" more measures can be relaxed as of June 1.
Restaurants and cafes will be able to reopen their doors provided that there is a maximum of 30 guests (excluding staff) who book in advance and with everyone to keep at least 1.5 metres between them. 
"There is no maximum number of people on terraces. Everyone should be seated at a table and kept 1.5," the government added. 
Film, theater and concert halls will also be able to reopen on June 1 under the same conditions while museums and monuments will be allowed to open if visitors buy tickets in advance
Secondary education will open on June 2 while "primary education will reopen 100% on 8 June, unless current studies show that this is not justified."
05.19.2020
20:51
WHO members agree to independent inquiry into pandemic response
05.19.2020
20:26
France revises death toll down
French health authorities have revised the COVID-19 death toll down by 217 following "a double count error in several care homes".
The country's death toll now stands at 28,022.
05.19.2020
20:06
Pandemic to push 60 million people 'into extreme poverty': World Bank
The World Bank announced on Tuesday that it has provided assistance to 100 developing countries home to 70% of the world's population to help protect the poor and vulnerable.
Of the 100 countries, 39 are in sub-Saharan Africa.
"The pandemic and shutdown of advanced economies could push as many as 60 million people into extreme poverty -- erasing much of the recent progress made in poverty alleviation," David Malpass, President of the World Bank, said
in a statement.
"To return to growth, our goal must be rapid, flexible responses to tackle the health emergency, provide cash and other expandable support to protect the poor, maintain the private sector, and strengthen economic resilience and recovery," he added. 
05.19.2020
19:12
Portugal 'box of emotions' allows relatives to visit loved ones
A care home in Portugal has created a special visiting room with a plexiglass screen that allows relatives to visit their loved ones amid the risk posed by the coronavirus pandemic.
It has been named the 'box of emotions'.
"We cannot touch them, there's no contact, but just the fact of being there and looking them in the eye is very positive," says Jose Navarro, son of one of the elderly that stay at the Montepio nursing home, near Lisbon.
According to Navarro, the past few months have been a painful experience for his father.
05.19.2020
19:10
Turkey sees rate of infections and deaths slow
Turkey reported a continued downward trajectory in COVID-19 deaths and confirmed infections Tuesday, with 28 new deaths and 1,022 infections over the past 24 hours.
Health Minister Fahrettin Koca tweeted new figures showing a total of 4,199 deaths and 151,615 reported positive cases since March 11, when the first infection was confirmed.
Koca said the decrease in patients needing intensive care continued and the number of patients who recovered reached 112,895.