Rijeka begins year of European Capital of Culture 2020 with opening ceremony
Comments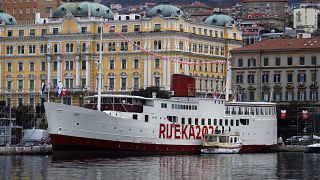 The historic Croatian costal city of Rijeka marked the start of its year as European Capital of Culture 2020 on Saturday, with a spectacular opening ceremony.
Over 70 events for all ages and interests took place, culminating in a performance called 'Industrial Opera' representing the city's heritage as a port.
Irena Kregar Segota, on the cultural committee for Rijeka European Capital of Culture, said the programme of events is inspired by the city's industrial heritage, migration and the sea.
A workers' city
"They really describe the history and the identity of Rijeka as a city that is surrounded by water, by the sea, that has many sources of fresh water. It's a city that has always been a workers' city, industrial city," she said.
From opera to art, music and photography, the programme has been designed to appeal to both tourists and residents.
Rijeka resident Marijana Boroja Uremovic said: "I am so happy that this has happened to my city where I live and [which] I adore."