Spike Lee 'honoured' to lead jury of this year's Cannes Film Festival
Comments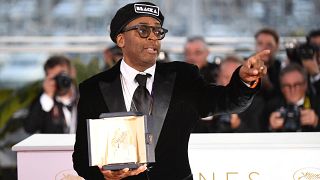 -
Spike Lee has been chosen as the president of the jury at this year's Cannes Film Festival.
The 62-year-old filmmaker said he was 'honoured' to be chosen for the position, two years after his movie BlacKKKlansman won the prestigious Grand Prix award at the festival in 2018.
He went on to win the Oscar that year for best adapted screenplay.
"I'm honored to be the first person of the African diaspora (USA) to be named President of the Cannes Jury and of a main film festival," he said in a statement.
Calling it the "most important film festival in the world", the director of movies such as Jungle Fever and Malcolm X went on to say the festival has had a big impact on his career.
Lee will present the grand prize - the Palme d'Or - at the end of the festival, which runs from May 12 to 23.